OnePlus 7Pro stands a tough competitor for iPhone XR and Samsung S10 which are 18% and 27% pricier respectively.
Gurugram – Wednesday May 15, 2019: The flagships of OnePlus, the dominating premium segment (₹25,001 – 50,000) brand which carved out a new segment in the Smartphone industry convincing consumers to explore an affordable option instead of buying Luxe (₹ 50,000 above) Smartphones have been announced.
OnePlus 7Pro is again a promising Smartphone from the company known for its engineering, design and elegance.  This Smartphone would have been a strong contender for paving OnePlus's entry into the Luxe segment.  The two Smartphones with which it would stand in competition in the eyes of consumers – iPhone XR and Samsung Galaxy S10 are 18% and 27% pricier than OnePlus 7Pro.
OnePlus 7Pro is the first Smartphone in the Pro variants across competition which gives definite takeaways to users in terms of better Display quality, Camera, Battery and style to name a few. For this consumers will have to pay 48% more (compared to OnePlus 7) as against industry average of 60% (average price difference between competition base models and their respective Pro variants).
Commenting on the pricing of these two flagship launches from OnePlus, Faisal Kawoosa, Founder & Chief Analyst at techARC said, "While one can understand that due to rising competition the company chose not to follow the pricing trend in case of OnePlus 7, it missed an opportunity to cross the Rs 50,000 threshold by pricing OnePlus 7Pro just under that."
"Nevertheless, OnePlus 7Pro will give a tough competition to iPhone XR and Samsung S10 Luxe category Smartphones," added Faisal.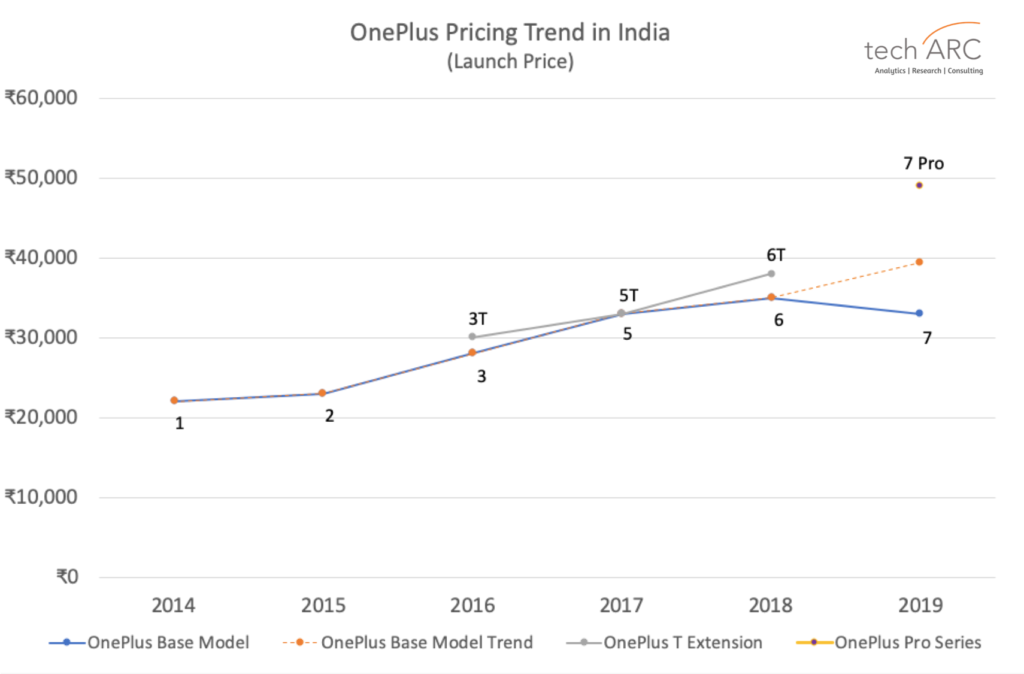 Owing to rising competition and increasing focus of brands like OPPO and Vivo in the ₹25,000 – 30,000 price range, OnePlus preferred not to follow the pricing trend and announced OnePlus 7 at ₹32,999, which is a 6% dip than its predecessor's launch price.  So far only Samsung had launched a flagship, S10 at a price cut of 3% comparing its predecessor, though in Luxe category.  The reason to this price cut comes from the competition offerings that are approximately 20% cheaper than OnePlus 7.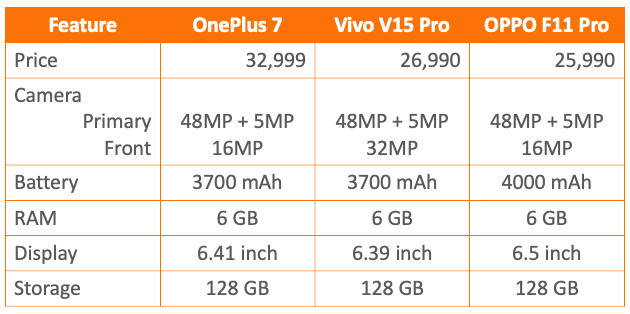 The above table compares OnePlus 7 with Vivo's V15 Pro and OPPO's F11 Pro on the 5 major deciding parameters of over 80% of the consumers.  Across these, OnePlus 7 is not offering anything fundamentally different than these two Smartphones.  Additionally, V15 Pro and F11 Pro do offer a full screen display with a Pop-up camera.
While this will be a very good news for consumers, especially the existing OnePlus users who would be looking at OnePlus 7 for an upgrade, BBK Group shall have to revise the positioning strategy for OnePlus, OPPO and Vivo. Earlier OPPO and Vivo were 'mirror' competing each other, which are now entering into OnePlus's space. Typically, OnePlus users having more than 2 years old model upgrade with every launch. techARC estimates that over 40% of the upgraders to OnePlus 7 would have come from OnePlus 5 model basis examination of the past trends. However, with a cheaper similar option from OPPO and Vivo, some existing users of OnePlus could switch away from the brand. In all this, Oxygen OS becomes the key differentiator which is being continuously appreciated by the users.