The installed base of 4G Smartphone handsets to go up by 1.3% to 72.9%.
West Bengal, Assam, Tamil Nadu and other similar states likely to contribute most where Non-4G Smartphone installed base is still above 30% of total Smartphones in use.
Gurugram - Friday, September 27, 2019: As per the latest techINSIGHT released today by techARC, the online festive season of major e-retailers like Amazon and Flipkart is going to spur upgrade to 4G Smartphones from existing 2G and 3G Smartphones across several parts of the country.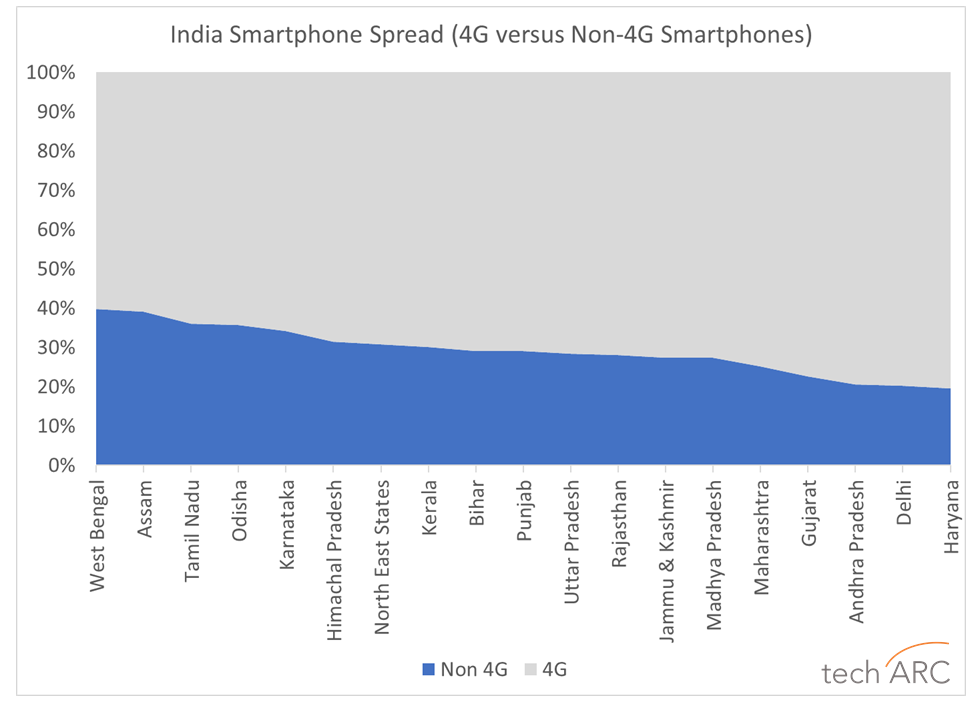 Faisal Kawoosa, Founder & Chief Analyst, techARC, highlighting the key insights said, "Riding on the attractive offers expected during online festive sales period, we expect existing 2G and 3G Smartphone users to take advantage and upgrade to the latest commercially available technology in Smartphones."
"If these online sales platforms - Amazon and Flipkart, play their marketing and advertising strategy well, they can significantly drive increase in overall 4G Smartphone installed base across the country; however, it has to be primarily focused at states like West Bengal, Assam, Tamil Nadu, Odisha and Karnataka where installed base of Non-4G Smartphones is still above 30%," added Faisal.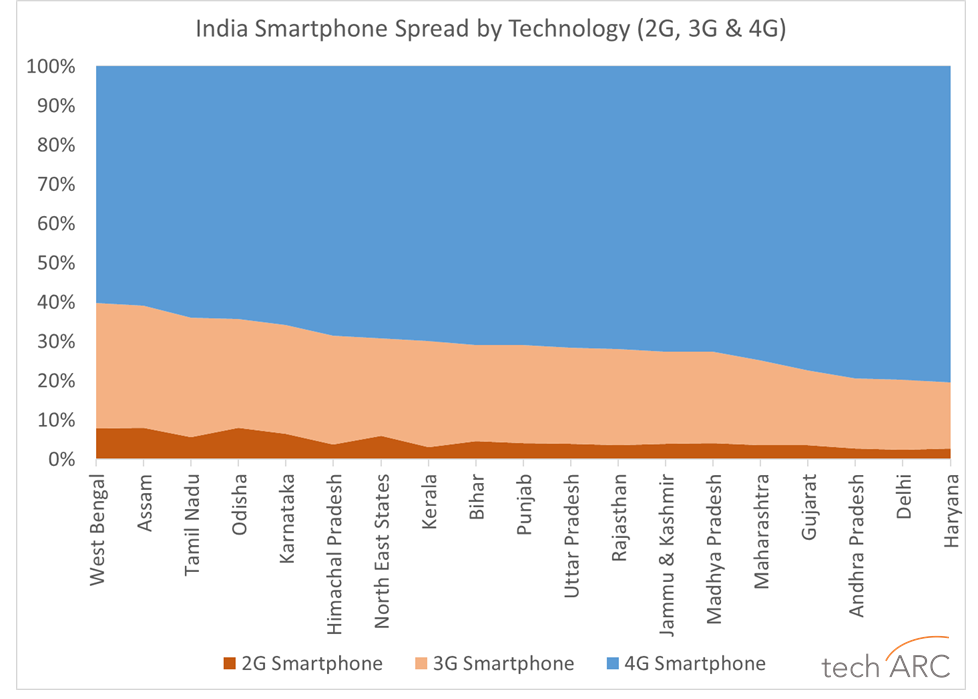 States like Odisha, West Bengal, Assam and others in the North East region have a good volume of 2G Smartphones in use and these could be propelled to upgrade to a 4G Smartphone during the online festive sales period.
techARC estimates 10 million Smartphones to be sold during the festive season period out of which 6 million will be new additions to the 4G Smartphone user base coming from 2G and 3G Smartphones as well as Featurephones.
The online retailers like Flipkart and Amazon have a wide range of 4G Smartphones available across price segments of Entry, Basic, Mid, Premium and Luxe categories to offer at attractive discounts and offers. This product portfolio is not only going to trigger replacement of existing 4G Smartphones but will also contribute technology upgrade within Smartphones.
NOTES:
The analysis is based on the installed base of Smartphone devices in India as of June 2019.
The states referred are clubbed as per telecom circle mapping. These include Andhra Pradesh and Telangana, Madhya Pradesh and Chhattisgarh, UP East and UP West, Mumbai and Maharashtra among others.
The analysis is based on installed base of Smartphone users in India.