How Samsung has doubled its sandwich for everyone in the market to enjoy a bite.
By Faisal Kawoosa, Founder & Chief Analyst, techARC
Samsung has seen through all the stage of Smartphone market in India. One of the pioneers of Smartphones, essentially after Android started gaining acceptability in the market, it reached penultimate where Smartphones were synonymous to Samsung, much like Nokia to Featurephones around a decade ago.
However, market does not remain the same all through. Samsung first saw a tough competition from the Indian brands which forayed in the affordability segment of Smartphones. Gradually, brands like Micromax, Intex, Lava, Karbonn and a breed of home-grown brands took away a substantial market opportunity. In around 2012-2014 timeframe, Samsung's market share by volumes settled in the range of 35-45% in the Android Smartphones. This had come down from 60% and above share it enjoyed before that.
The third era of Samsung's journey was post 2014, when Chinese brands marked entry into Indian Smartphone market in a big way. Brands like OPPO, Vivo, Xiaomi, OnePlus and several others started to aggressively pitch for the growing Smartphone opportunity in India. While these brands primarily hit the domestic brands and started eating their market share, towards the beginning of 2017, these brands also started gaining from Samsung. With the result, Samsung's market share further dipped below 30% by volumes in 2018.
The emergence of online channel of selling Smartphones complimented the growth of Chinese brands at a time, when users in India were looking for their first 4G Smartphone. This was primarily driven by youth who wanted to use the data services for creation as well as consumption of various services. Social Media, Chat and later on OTT Entertainment, all was pulling youth to be on-net and own a 4G Smartphone. From the services side, Jio disrupted the market by introducing free 4G services which resulted in new consumer 'data' behaviour and other operators also followed the change. The data services started getting consumed by x-times. While a user in 3G era would consume 1-3GB of data a month, in 4G even first-time data users started consuming 1GB or more a day.
While all this was taking place, Samsung was dethroned from the No. 1 position in Smartphones. It took some time for the brand to decide about the future course and ultimately came out with a strategy.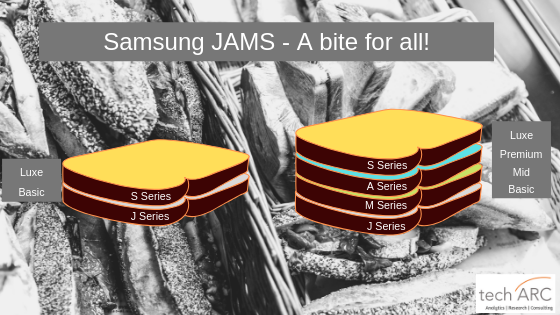 Looking at the portfolio stack of Samsung, it had got polarized between the two ends of the market. Its J series was catering to the Basic (5,001 – 10,000) segment of the Smartphones while the S series was serving the Luxe (Above 50,000) market. However, the market growth was lying the mid and premium segments. The reason for the growth in these segments was primarily because of the two reasons: -
Mid segment was catering to the upgrade requirements of large number of users who were owning a sub 10,000 Smartphone. These users were looking for more powerful yet elegant devices. Samsung was not having much to offer in this segment. The typical buyers in this segment were youth, who were following the Smartphone market very closely online and had gained a lot of knowledge about the industry, brand, products and features. Brands like Xiaomi, Vivo and OPPO gained from this market movement and Samsung was losing this opportunity fast.
The growth in the premium segment, which largely can be attributed by the success of OnePlus, was led by users finding flagship experience in this segment at almost half the price. Earlier, users had to either go for iPhone or Samsung S series to own a flagship experience. These were above Rs 50,000. Samsung was again losing dual opportunity here. Its S series sales were stagnating as not many users hoping in the premium range and buying option like OnePlus and at the same time, its stack was absolutely blank for the segment.
Over the last 1 year, Samsung has gradually but successfully addressed the portfolio stack. It has now a series to offer for each segment, it is present in. Its product portfolio is now aligned to the market segments – J Series for Basic, M Series for Mid, A Series for Premium and S Series for Luxe. This JMAS (read JAMS) layered approach of Samsung has nourished its portfolio in all the segments where it is now competing with the segment / niche focused players. For instance, in the most competitive mid-range, where it was losing to brands like Xiaomi, Vivo and OPPO, Samsung's M series has seen 4 launches in 4 months, and its sales have already crossed 2 million units. Similarly, its A series is also picking up in the premium segment and there are early signs of it hitting brands like OnePlus.
This is the fourth era of Samsung, from 1st being synonymous to Smartphones, 2nd fighting with Indian brands and 3rd losing to Chinese brands. Although, its competition in the market is still primarily with Chinese brands, the 4th era marks with a difference where it has a portfolio to fight with. It's now an omni-channel brand and has not left any cohort of users unaddressed.
Samsung's 4th era will be an interesting phase to witness not only for the company but for the industry as a whole, where brands are building their cross-channel capabilities, and Samsung is already leader in the offline channel, the most difficult to establish and sustain. Samsung has 43% market share in the offline channel for Smartphones and the nearest rivals are at one-third of the market pie as per techARC estimates.