India had 484.7 million Smartphones in use as of June 2019 (1H 2019).
1 of every three Smartphones in use is a Samsung Smartphone.
Top 10 most used brands in India account for 85% of the market share by installed base.
Realme is the youngest Smartphone brand to enter in top 10 list.
Micromax, Lava and Intex only three domestic brands in top 10.
As per the 1st edition of India Smartphone Installed Base Analysis Report by techARC, India had 484.7 million Smartphone devices in use by the end of June 2019 (1H 2019). This is 14% more than the Featurephones and just 2% less than Featurephones and Smart-Featurephones taken together. By this trend, it is expected that Smartphones will be the most used mobile handset device category by the end of year 2019 (Dec 2019).
Sharing the highlights of the report, Faisal Kawoosa, Founder and Chief Analyst, techARC said, "Although the average selling price of Smartphones has increased in the range of 11-13% in the past 2-3 years owing to several new features being introduced, consumers see great value in owning one. Smartphones are not just a lifestyle electronics but add great value to the productivity and accessibility of a user."
"The urge to own a Smartphone will continue among the vast base of Featurephone users, however, they still are facing challenges in finding a durable Smartphone in the Entry segment (less than Rs 5,000). The entire industry needs to look for disruptions beyond Android Go and Smart-Featurephones to address the persistent need of owning a Smartphone at the entry level," concluded Kawoosa.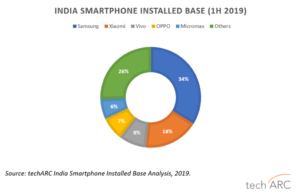 techINSIGHT Highlights:
There are 400+ brands of Smartphones used by consumers in India.
The installed base of users in India is spread over 12,000+ models of various OEMs / Brands.
15 brands have installed base of 5 million or more.
Micromax is the only Indian brand in top 5. However, its among fast depleting brand from the networks in India.
Lenovo MBG (Lenovo + Motorola) likely to dethrone Micromax from the top 5 list.
Realme has made an entry in the top 10 most used Smartphones in India in just a span of over 1 year.
Apple still the most used brand in Luxe category.
OnePlus tops the list in Premium brands category.
Samsung Galaxy J2, Xiaomi Redmi 5A and Xiaomi Redmi Note 4 are the top 3 most used Smartphones in India. Top 10 models are either from Samsung or Xiaomi with Vivo Y53 being the only exception which figures in the top chart.
Consumers in Tamil Nadu, Maharashtra, Punjab, Uttar Pradesh and Andhra Pradesh use as many as 9000+ different Smartphone models. This is followed by Delhi, Gujarat and Karnataka where people are using 7000+ different models. Consumers in remaining states use 4000+ different Smartphone models.
---
About techARC's India Smartphone Installed Base Analysis Report:
The report is the only insights programme giving detailed analyses of Smartphone brands and models in use by the Indian Smartphone users across the country. Derived from the real time network data analysis, the report scan over 330+ million active users on a monthly basis to come out with very specific and actionable insights.
The report helps OEMs and other key stakeholders to understand the actual usage patterns of the Smartphones and thereby develop competition strategies as well as devise programmes to specifically target users triggering upgrades and replacements.