Nokia to benefit globally from changing enterprise communications trends.
Gurugram - Wednesday October 9, 2019: The latest techINSIGHT released by techARC highlights the increasing need of using AER or Android Enterprise Recommended Smartphones for enterprise communications.  This is primarily because of Smartphones becoming the preferred medium of communications by employees across the hierarchy.
Sharing more on the techINSIGHT, Faisal Kawoosa, Founder & Chief Analyst, techARC said, "In most of the cases Smartphones have graduated from add-on to default office communication device which means employees are using it for official correspondences, accessing enterprise apps, syncing data and contacts as well as downloading important, including confidential documents. This means potential threat to data privacy of organisation as well as chances of exploiting the whole IT infrastructure through one or the other vulnerability."
"As a consequence, it is important for CIOs, the custodians of ICT assets of an organisation to ensure enterprise grade security and manageability of Smartphones even if the ownership and possession may rest with the employees. CIOs cannot be held for the security of the entire ICT infrastructure if they cannot implement the policies that would allow them blanket control and manageability of devices that are part of the ICT infrastructure including the Smartphones used by employees to connect with," concluded Faisal.
AER by Google is a programme to optimise the security, manageability and flexibility of devices used in enterprises. The programme lays a set of hardware and software specifications as well as additional capabilities regarding management of apps, OS, users and other elements, which are required to be met by the Smartphone OEMs to become an Android Enterprise Recommended device.
The threats like Device Hijacking, App Piracy and Data Stealing are some of the growing challenges which weaken the most connected end-device (Smartphones) with any IT infrastructure. This requires security beyond anti-viruses.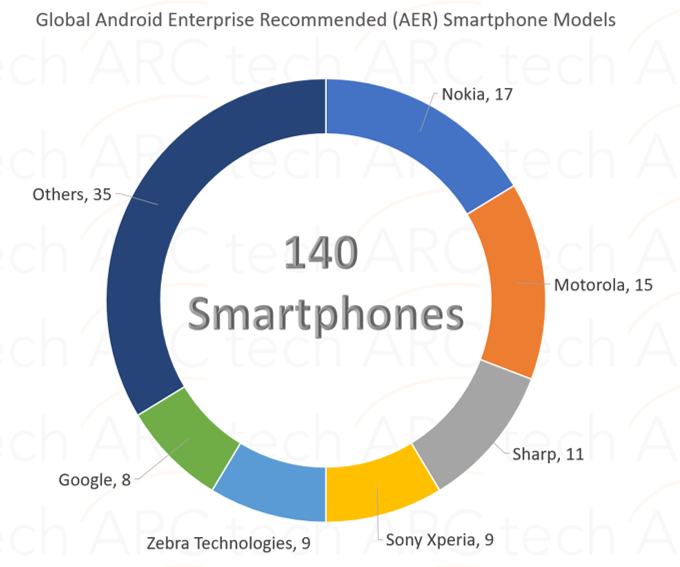 Globally, there are 140 Smartphones which are AER compliant as per Google guidelines. Out of these Nokia has 17 models followed by Motorola with 15 models conforming to the specifications. AER Smartphones are broadly classified as Knowledge Worker and Rugged devices. For most of the use cases within enterprises, Knowledge Worker devices are applicable. Though there are 22 brands selling AER compliant Smartphones, there aren't more than 6 popularly known Smartphone brands led by Nokia including Motorola, Google, Blackberry, LG and Sony Xperia.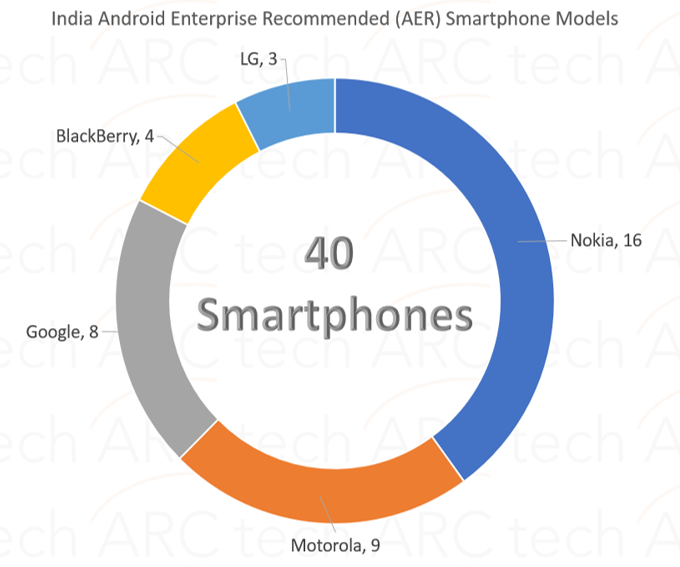 In India, there are only 40 Smartphones which comply to AER norms. Nokia leads the choice with 16 such Smartphones followed by Motorola and Google with 9 and 8 options respectively. Out of these 40 AER compliant Smartphones available in India, around 5 are not sold anymore them reaching End-of-Life. This leaves people with only 35 models to choose from. From popularity and acceptability point of view, only Nokia, Motorola and Google are the brands which have an AER compliant Smartphone for India markets.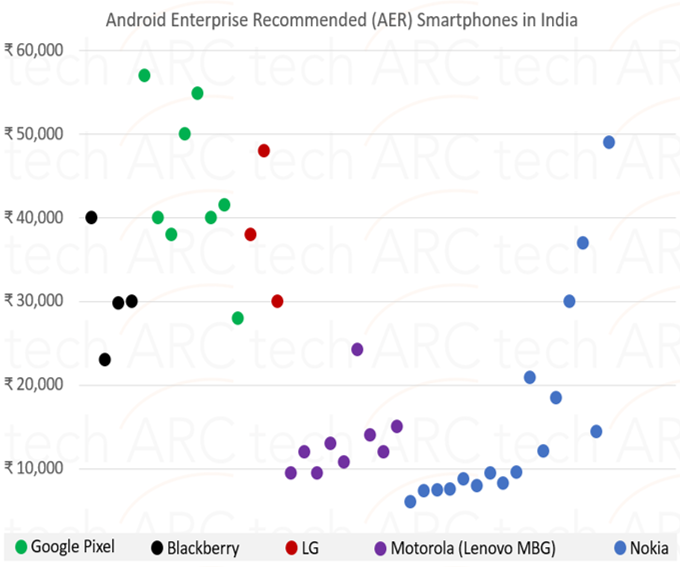 For CIOs to strictly implement AER Smartphones policy in their organisations, asides popularity, they need to ensure that the Smartphones are available across price-points catering to the entire hierarchy of an organisation. Brands like Nokia and Motorola have AER compliant Smartphones across the price continuum which can be used by the entire hierarchy of an organisation. Though, Nokia has a wider range to offer giving it competitive edge than any other brand globally as well as in India.
Security has been a concern for the organisations throughout. However, with the changing enterprise communication trends, Smartphones have become the default interface between an employee and the organisation. The organisations have also been supporting this changing behaviour by widening the scope of mobility and leveraging from cloud-based applications and solutions they are making the critical enterprise applications device and platform agnostic to give employees ease of working. These changing dimensions have further added to the criticality of Smartphones being secure devices to connect with the IT infrastructure. Smartphones are connecting with the IT infrastructure anytime and anywhere over the public Internet where a CIO cannot always guarantee the security levels expected. At the same time, users are giving precedence to convenience than anything. As a consequence, single Smartphone usage is increasing for both official and personal needs. This again makes it challenging for any CIO to keep the device conforming to the organisation needs as the employees are free to use any apps from Play Store as well as other 'parallel' app-stores. The employee can also store critical information of an organisation ranging from contacts to confidential financial documents anywhere on the device if the CIO is not able to enforce the IT policy and guidelines. All these concerns make it essential for any organisation to encourage employees using AER complaint Smartphones only. While the choice may be restricted as of now, but as enterprises start demanding for such devices and make it a compliance point, more brands will follow the trend and launch their own AER compliant Smartphones. It is essential for CIOs to strengthen the Smartphone assets that connect with the enterprise infrastructure for most of the time of any day, and ensure every end-point is secure and conforming to the policies they want to implement. In fact, in some profiles, employees may not be assigned a Laptop or a Desktop, but would be connecting to the enterprise applications over a Smartphone. For instance, drivers, office boys and couriers of an organisations. Essentially for app aggregation business models. Also, even though there is no such programme from Apple for iOS, it is to be kept in mind that over 97% of the people use an Android Smartphone in any scenario.