Community driven brands like Realme and OnePlus top holistic Smartphone Brand Quality Index
Democratisation is enabling create quality brands resulting in repurchases & recommendations to others, finds techARC's India Holistic Smartphone Brand Quality Index
Gurugram - Thursday, October 29, 2020: In techARC's Smartphone Brand Quality Index report, industry's first end-to-end measure of smartphone brand quality released today, it was revealed that the brands having community driven approach score high on holistic quality that has a direct bearing on repurchases and recommendations to friends and family.
Sharing key findings of the report, Faisal Kawoosa, Founder & Chief Analyst, techARC said, "The active engagement of brands with its consumers through community driven approach has democratised technology as users are co-creating the products as well as processes of the brands which helps in holistically improving the quality of product as well as the engagement."
"As these brands are increasingly adopting user driven innovation, the gap between experience and expectations is narrowing leading to overall quality," added Faisal.
Table 1 - Top 10 Smartphone Quality Brands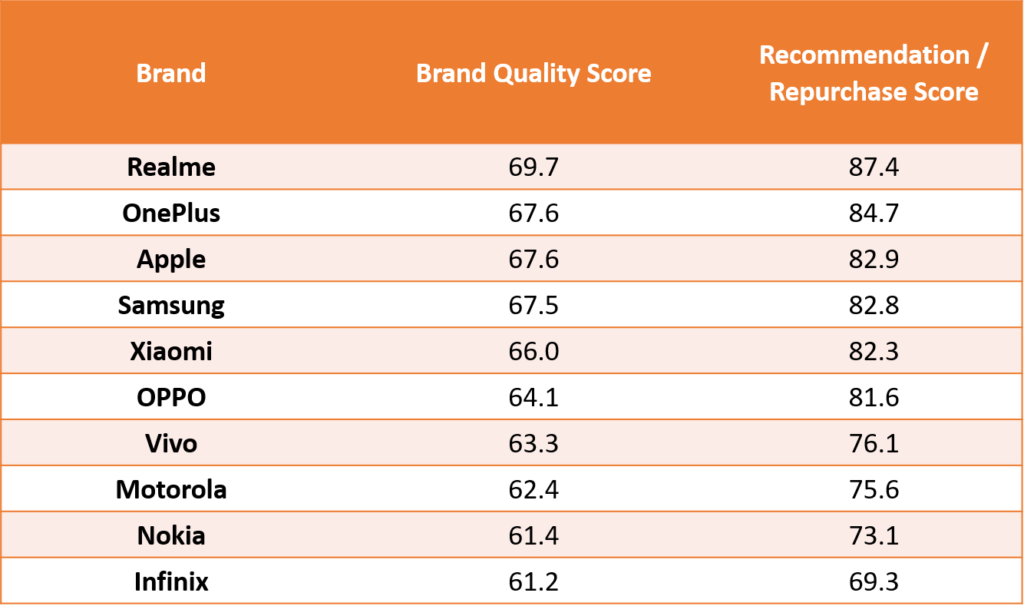 There is a strong positive co-relation between the Brand Quality Score and the likeliness of them being recommended to friends and family as well as being considered for repurchases. The top 5 brands as per Brand Quality Index also top the recommendation / repurchase score in that order.
Realme, which ranks top on Brand Quality Index at 69.7 points is also the No.1 in the recommendation / repurchase score at 87.4.
Besides Realme and OnePlus, other three brands which made it to the top 5 holistic quality brands include Apple, Samsung, and Xiaomi. In terms of product quality index, Apple leads the brands followed by Samsung and Realme, while with regards to engagement quality index, Realme, Xiaomi and OnePlus are the top three brands as per users.
Table 2 - Smartphone Quality Index Leader board

The Smartphone Quality Index Leader board given above shows the top 3 brands by Overall Brand Quality, Product Quality and Engagement Quality indexes, respectively. Realme tops the Overall Brand Quality Index with a score of 69.7 as well as leads Engagement Quality Index with a score of 84.6. iPhone maker Apple leads the Product Quality Index at 61.2 points. OnePlus and Apple share 2nd rank in the Overall Brand Quality followed by Samsung which stands 3rd at 67.4 points. There is a tie between Samsung and Realme on Product Quality score at 59.7 points each. OnePlus follows closely at 58.9 points. OnePlus also ranks 3rd on the Engagement Quality Index, while Xiaomi earned 2nd rank on the index.
Smartphone users do not consider the product quality alone while deciding about the brand they want to invest in. Brand's quality is derived from a combination of both product quality and engagement quality. Smartphones are rather seen as a long-term relationship going beyond the purchase of product, which is why users also consider the engagement with the brand equally important.
Product Quality: The quality of the product constructs important elements of the holistic brand quality. Users evaluate each major feature like camera, display, battery, processor, memory as well as the accessories including chargers while making their opinion about the quality of the smartphone. Quality is also impacted by look and feel, design, built quality and the software enhancements that make the overall experience smooth for a user.
Engagement Quality: While the quality of the product is the core, engagement offered by the brand also has a bearing on the overall quality assessment. Users have very strong expectations with regards to every touch point with the brand spreading across pre-sales, sales and post-sales functions. Accuracy, completeness and up to mark information about the product, pricing and availability of products define the quality during pre-sales engagement. Similarly, the conduct of actual sales, availability of the exact model and variant, options to make payment, ambience of store (in case of offline), invoicing, packaging and delivery are other key factors defining the sales engagement. In the post sales function, which spans longest among these, regular relevant updates about software, OS and security, seeking feedback and working / implementing them, repair service and after sale experience are some cornerstones determining quality in this segment of customer journey
Interesting Insights
Some of the key findings of the research assessing performance of major brands on specific parameters as well as sub-parameters include: -
Users of Realme and OnePlus have got their Smartphones least repaired. 60.1% of Realme users have never got their smartphone repaired since purchase closely followed by OnePlus at 59.3%. The reasons for repairs also included user faults like breaking of display, etc.
Realme users find the brand leading in the service quality with 86% of the users believing the repair and service policy and process are transparent and genuine.
Apple and OnePlus compete very closely for the best sales experience quality with 86.7% and 86.5% of their users finding the quality of sales process extremely good.
Research Notes & Methodology
Some of the key elements measured during the research included: -
Availability and quality of information helping users to make the right choice.
Ability to convert choice made during the pre-sales research to actual sales.
Availability of the exact model and variant.
Conduct of staff during the sales including product knowledge and handling of queries.
Sales process including invoicing, packaging, and delivery.
Repair process as well as rate of repair/returns.
Community nurturing and active engagement of community members.
Quality of product elements and specifications.
External quality features like design and built quality.
Recommendation rate to others for using the same smartphone.
The quantitative research was done during the period of Aug-Sep 2020 covering over 25 major cities and towns in India with evenly distributed sample size of 5,000 smartphone users, using the current smartphone for at least 1 year. The factors considered to measure the holistic brand quality were also suggested by users through a listing exercise.
For the calculation of Overall Brand Quality Index, weighted score of Product Quality Index (PQI) and Engagement Quality Index (EQI). The weights were defined as per the outcomes of the listing survey done with the users. PQI and EQI were computed with a number of sub factors, which included smartphone never repaired score, quality of components of a smartphone, quality of elements of a smartphone for PQI, and pre-sales, sales and post-sales engagement quality for computation of EQI. Using this model, the brand's overall quality could be exactly assessed capturing the quality of the product as well as the engagement built around it.
About techARC
Founded in 2018, techARC is a technology analytics, research, and consulting firm offering services in the specific areas of connected consumer devices and services, digital commerce, digital security and electronics manufacturing. Serving Tier 1 brands with research insights, techARC helps decision makers to create differentiating strategies and impactful action plans.
techARC also works with industry trade bodies and think tanks for advocacy and evangelisation of new technologies for the benefit of consumers. It also offers consulting services to start-ups in the areas like artificial intelligence, IoT and Machine Learning. techARC's research is widely published in leading national and international publications. Its senior analysts are frequently quoted for sharing their perspectives on various developments and trends in the technology domain. For further, please visit www.techarc.net.
You can share this story by using your social accounts: