Smartphone industry will earn more than half of its revenue in festive quarter in India
With over 49.9 million smartphones expected to sell during Oct-Dec 2021 quarter, the sales contribution of the quarter by revenue and volume is estimated at 56% and 32% respectively.
Key insights
Smartphones worth Rs 1,252 billion (US $16.9 Bn) expected to be sold during the festive quarter of Oct-Dec 2021.
The revenue contributions will be led by Premium segment (Rs 25,000-50,000) of segment contributing 51.7% of the total revenues during the quarter.
By volume sales, Mid segment (Rs 12,000-25,000) will drive the contributions with 42.1% smartphones selling in this segment.
The channel contribution is witnessing a shift where mid, premium and luxe category smartphone sales are increasing compared to the earlier view where basic segment would drive online sales.
There is abundant choice of 5G smartphones available in the online channels. The leading marketplaces of Amazon and Flipkart are offering more than 50 5G smartphone models. Samsung leads with 20 5G smartphone models available followed by Realme with 12 options for customers to choose from, while looking for a 5G smartphone online.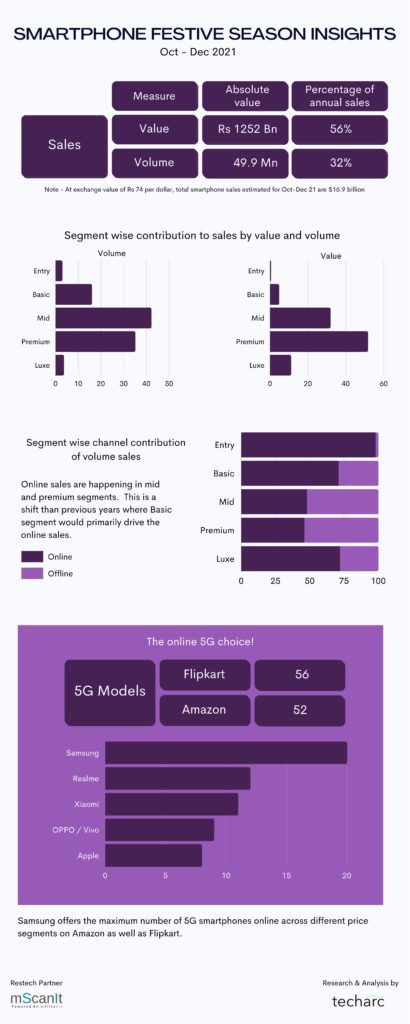 You can share this story by using your social accounts: