Smartphone users under INR 30,000 find themselves compromising performance for price
Users dissatisfied with the price vs performance aspect with 86% agreeing that best-in-class performance in devices such as OnePlus One, POCO F1, Mi3, Redmi K20, and K20 pro should be affordable.
Under 30K smartphone segment has reached a level of saturation and it demands innovation and cutting-edge performance for user loyalty
61% of users in the 30K smartphone segment change their phones within 1 year due to a lack of performance
Speed of the device is one of the major challenges users are facing, followed by battery back-up and technical glitches like the phone hanging.
Gurugram, 29 June 2022: As India rides the wave of being a mobile-first economy, smartphone users in the 30K segment expect better performance and speed in this price range. The finding stems from a study initiated by Techarc to understand user expectations and experience from a smartphone purchase in the 30K segment.
Faisal Kawoosa, Founder and Chief Analyst, Techarc, highlighting the key inferences of the study said, "One of the key triggers for users foraying in under 30,000 segment is owning smartphones which offer great performance coupled with speeds aligning with fast lifestyle.  Over the past few years, the segment has peaked in terms of innovation, and we can see most of the launches reaching a saturation level resulting in increasing disappointment upon usage. Earlier the segment had shown some industry disruptions like Redmi K20 among others.  These smartphones offered a very high price-performance ratio. The present user considers performance among top influencing factors during the purchase, however, it's the 2nd biggest challenge in terms of issues they face with the current devices users are owing within this segment."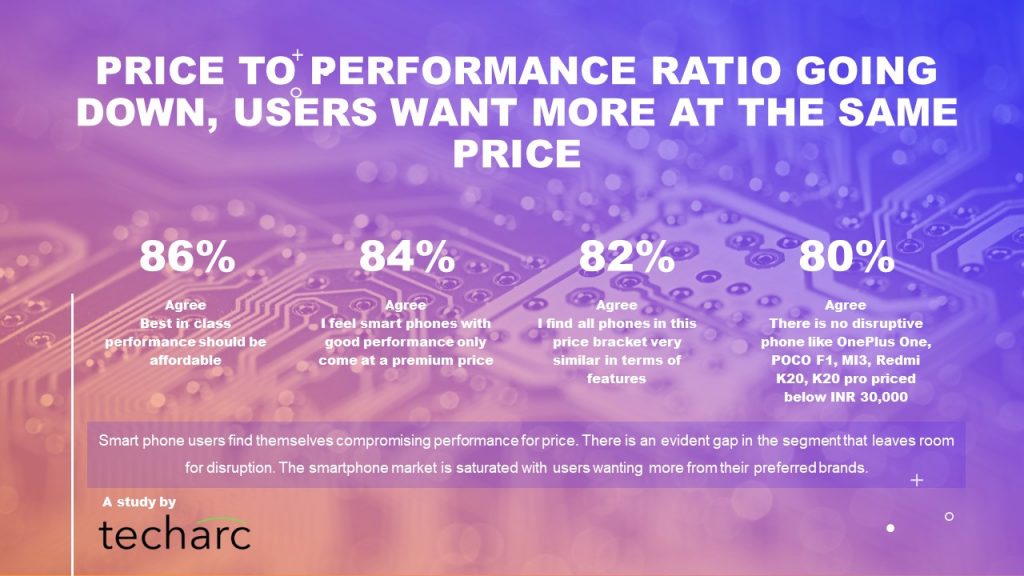 Key inferences from the study:
Performance criteria of users: 144 Hz refresh rate, followed by flagship processor and fast charging tops the users' wish-list for evaluating the performance of the device. The list is also indicative of what performance means for smartphone users in the category and need for a processor to support the experience they are seeking. Other
Best-in-class performance has to be affordable:  The smartphone market is fragmented with users wanting more from their preferred brands.  86% of respondents agree that best-in-class performance has to be affordable.  Legacy brands such as OnePlus One, Redmi K20, K20 pro, and POCO F1 with disruptive innovation should cater to this segment.
Key attributes considered before making a purchase: Camera quality, Operating System, Technical Superiority, Video Quality, and Value for money are the topmost important attributes they consider before they decide to buy a smartphone.
Technical Superiority draws special attention among users: Processor and speed of user experience are a function of technical superiority which ranked highest among users. However, it is rated high on dissatisfaction as well. Consumers have settled for what they are getting within the price range, they want "more" from their devices. 
Users are changing their devices every year in the segment: 61% of the users change their device in a year or less, while 1/3rd of the users change their device once in 6 months. While the need for staying updated becomes a major driver, other factors are predominantly performance-driven.
Need for a high-performance device is a major missing in the segment: Speed of the device is one of the major challenges users are facing followed by battery backup and technical glitches. The processor does not support the specs of the device, causing a subpar user experience overall. 87% of users are willing to pay a premium for a better processor for a good performance and experience with the device.
Survey Methodology
This study is conducted by Techarc to study the user expectations in the under INR 30,000 segment of smartphone users. The study covered more than 1,000 respondents across India.
About Techarc:
Techarc offers analytics, research, and consulting services in the technology domain, specifically focusing on ConsumerTech, DigiTech, DeepTech, AutoTech, EduTech, and AssistiveTech areas. The unique insights and trends offered by Techarc leverage some of the latest ResTech (Research Technology) solutions offered by its partners who have industry-acclaimed solutions developed on AI, ML, and other intelligent technologies. For more on Techarc, please visit www.techarc.net
You can share this story by using your social accounts: