Apple's 2021 launch is inline with the smart devices industry trend
The smartphone contribution for OEMs is on a decline with reducing growth opportunities and they are hedging it with the growth in other segments like Smart TVs, Wristables, TWS and others.
Apple 2021 launch was another impressive one like before. Though it missed the audience excitement like before, but Apple made it interesting and engaging as they could in these times of remote and virtual launches. While iPhone always remains the climax of the launches, Apple has gradually started to spotlight on other smart devices as well. For instance, in yesterday's launch, iPad was one such device which got a lot of prominence backed by substantial improvements in features and capabilities. Similarly, last year it was about services like Apple TV+ and Apple Arcade. So why is Apple doing this?
Recently, Techarc announced its India Connected Consumer Market Scan Dashboard 2021 insights. Looking at the industry level trends the contribution of smartphones to the overall revenue is on a decline. In the Indian context as well as at a global level, the new smartphone users aren't growing at a desired rate owing to several factors, which are local to every market. While in markets like US and Europe, it has reached maturity; in India finding an affordable and reliable smartphone is becoming challenging.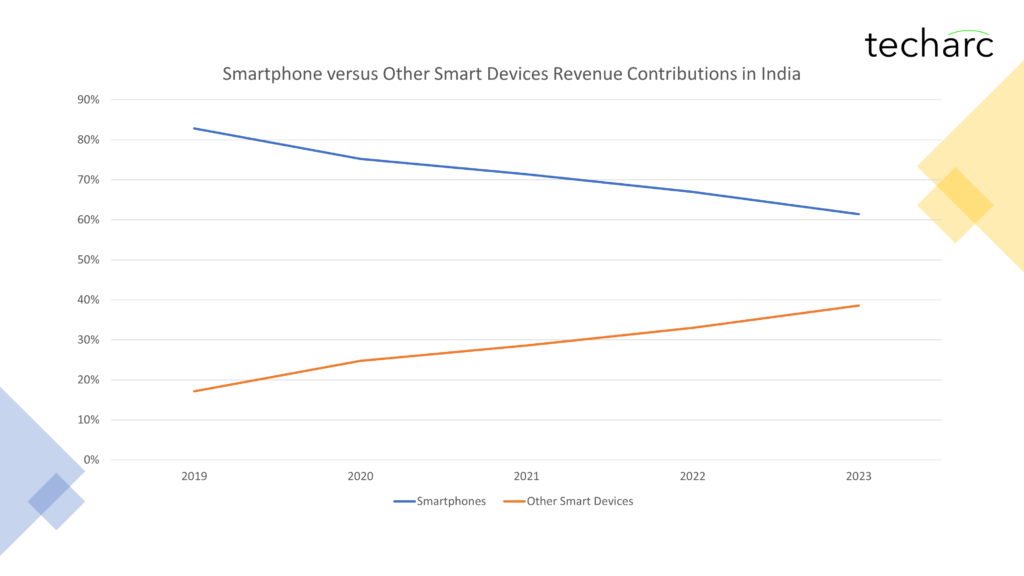 The smartphone market will continue to show this trend and the proactive OEMs have already started hedging by expanding the portfolio of smart devices to not only to sustain but grow revenues. In the recent times, categories like Smart TVs, Wristables, TWS, etc., have seen huge surge in demand. At the same time, due to digital education, products like Tablets have also seen revival in the demand, so have Laptops.
Launch after launch, Apple is experimenting in other smart devices also and enhancing the experience, performance and capabilities. Even for Apple, the iPhone contributions to revenues have dropped slightly. As compared to global 6 months results ending March 2020 there was 1% dip in the revenue contribution of iPhones for the same period ending March 2021. This is even after in 12 series we had iPhone 12 Pro and ProMax which were above Rs 150,000.
Among the smartphone OEMs, Samsung, OnePlus, Realme, Xiaomi, Infinix and a few more have already started this journey of becoming what we refer as 'Tech-Style' brands. These brands have now multiple smart devices to offer to the users complementing the digital lifestyle of users - their new customers or existing ones.
As Apple does, it has again played its cards very well in evolving as a 'Tech-Style' brand and others have followed it in the industry. One may call it building an ecosystem; however Apple has an edge as it has its own OS as well as other content libraries as well. Other OEMs are focusing more on devices ecosystem alone.
Apple is up with this launch for another good year in India and elsewhere. With users now understanding the dependence on such smart devices in essential daily living, performance, experience, reliability and quality (PERQ, read as PERK) is the only ultimate motivation for any users to buy smart devices. If you are the brand that offers users these PERKs, they are yours!
You can share this story by using your social accounts: