Samsung Galaxy S21 Ultra leads the Unboxing Score with an overall score of 789 way above industry benchmark of 505 for the smartphone models launched in 1H 2021 in India
The Unboxing Score analysis was done basis 178 variants announced by various Smartphone OEMs during Jan-Jun 2021. The score is Techarc's proprietary unique statistically driven value-price measurement making it easy for users to select the smartphone with the maximum value at a given price.
In its 1st edition of Unboxing Score analytics announced by Techarc, Samsung Galaxy S21 Ultra emerged as the highest value offering smartphone across price segments that were launched during Jan-Jun (1H 2021) in India.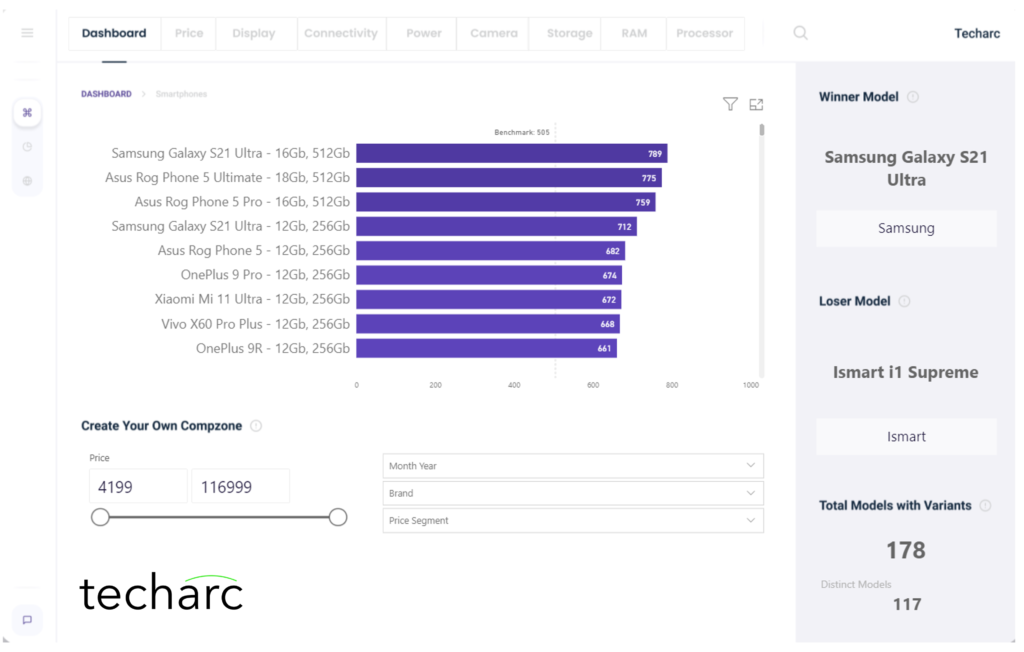 Releasing the Unboxing Score analytics, Faisal Kawoosa, Founder and Chief Analyst, Techarc said, "Increasingly it is becoming challenging for users to decide on which device to buy once they make up their mind and identify the zone, which is often defined by the budget they want to spend. But then to finalise choice within the zone has been difficult. With Unboxing Score users can easily and objectively maximise the value they can derive out of the money they are willing to shell out."
"The users can also identify their device using key features. For instance, in Smartphones, they can choose by display, camera, battery, storage and other key elements that define a smartphone," added Faisal.
Key Highlights of Smartphone Unboxing Score Analytics
The top 10 smartphones across any segment were Samsung Galaxy S21 Ultra, Asus ROG Phone 5 Ultimate, Asus ROG Phone 5 Pro, Asus ROG Phone 5, OnePlus 9 Pro, Xiaomi Mi 11 Ultra, Vivo X60 Pro Plus, OnePlus 9R and Realme X7 Max.  Among the leading OEMs, OPPO is the only smartphone maker not trending in top 10. 
7 out of top 10 Unboxing Score smartphones were launched using Qualcomm Snapdragon chipset.
In the Luxe segment (Rs 50,000 and above), Asus ROG Phone 5 Ultimate [18GB RAM, 512 GB ROM] leads with Unboxing Score of 880 closely followed by Samsung Galaxy S21 Ultra [16GB RAM, 512GB ROM] with 877 points out of a maximum possible of 1,000 points.  The benchmark for Luxe segment was 689 points during the period.
In the Premium segment (Rs 25,001 to Rs 50,000), Realme's X7 Max [12GB RAM, 256GB ROM] led with the highest Unboxing Score of 865 points against the segment benchmark of 703 points.  A total of 28 models were launched in this segment during the period of Jan-Jun 2021.
The Mid segment (Rs 12,001 to Rs 25,000) was led by Infinix Note 10 Pro [8GB RAM, 256GB ROM] variant.  The segment benchmark stood at 642 for the period based on Unboxing Score of 70 smartphone variants.
The Basic segment (Rs 6,001 to Rs 12,000) was again led by Infinix with its Note 10 [6GB RAM, 128GB ROM] variant.  A total of 56 variants with 42 distinct models were announced by various OEMs during the period.  The segment benchmark Unboxing Score stood at 618 points.
In the Entry segment (Up to Rs 5,000) Coolpad's Mega 5S [4GB RAM, 64GB ROM] led with 861 points which was distantly followed by iKall's K540 [4GB RAM, 64GB ROM].  The segment benchmark stood at 603 points.
Asus ROG Phone 5 Ultimate [18GB RAM, 512GB ROM] emerged as the No 1 gaming smartphone with a score of 775 points.
Kavita Behera, Analyst for Consumer Tech at Techarc explaining more on Unboxing Score said, "One of the important ingredients of Unboxing Score is the continuous input from actual smartphone users whose inputs form a key factor to compute the scores. Till now we have gathered inputs from over 30,000 smartphone users to know about how they decide about value from a smartphone."
For any queries please contact
Press: media[@]techarc.net
Industry: research[@]techarc.net
You can share this story by using your social accounts: