Smart Speaker shipments cross record 1 mn in 2020, Apple widens the choice for consumers.
Amazon leads smart speaker market in India both in value and volume market shares. Xiaomi ranks 2nd by market value share (10%) in its 1st year of market entry.
Gurugram – Wednesday, February 17th, 2021:  With 40% of smart speakers being shipped in the fourth quarter of calendar year 2020, the total shipments for the year crossed 1 million mark (exceeding estimates) for the first time in India.  In terms of value, smart speakers worth Rs 463.4 crore (US $63.6 mn) were consumed during the period.
Faisal Kawoosa, Founder & Chief Analyst, techARC, while sharing the key insights of techARC's India Smart Speaker Market Scan 2020 said, "The market is unfolding in India as a result of which we will see many more players foraying into this category in next 2 years, leading to it peak fragmentation.  Thereafter consolidation will start leaving behind the serious players alone."
"For consumers it is very important to make right choice in coming years comparing 'chalk and cheese' and buy speakers which gives them the experience along with promise they are looking for," added Faisal.
Key Market Insights:
The category will post 'ultra-growth' (i.e., annual growth of more than 35%) for next 2-3 years as more players foray into the segment complimenting consumers' intent to buy smart speakers.
Most of the opportunity lies in under Rs 5,000.  Consumers are preferring to buy smart speakers priced under Rs 5,000 where Amazon Echo Dot devices are priced.
Speakers with displays are still a niche.  This category will not see a substantial jump as there are many other competing alternatives available to them. Also, consumers prefer them more as 'off-display' alternative to connect for conversational computing use cases.
Amazon's market position will continue to remain strong.  Other than catering to multiple market segments through widest range of smart speakers to offer, it is also investing in building a content and use case ecosystem by helping development of skills.  In India alone, Amazon has more than 30,000 skills to offer to users.
Among the alternatives to Amazon, Xiaomi appears to be catching up fast.  In its 1st year in this category, Xiaomi has shipped more than 75,000 units and garnered 8% of market share by volume.  In terms of value, its market share stood at 10%, 2nd in rank after Amazon (80%), though with a wide gap.
Apple also made a good start in this category in 2020.  Its Homepod and Homepod Mini smart speakers started selling in India from Oct 2020.  Within just one quarter of shipments, its share was 2% in the overall units.  Over 84% of Apple smart speaker shipments were of Homepod Mini model.
Google has to revisit its strategy about smart speakers like other hardware products including Pixel smartphones.  Though it managed 11% market share by volume in 2020, it could face serious competition from other existing and new entrant players.  This could also impact Google Android's prospects in Smart Home environment where the smart speaker will play a central role.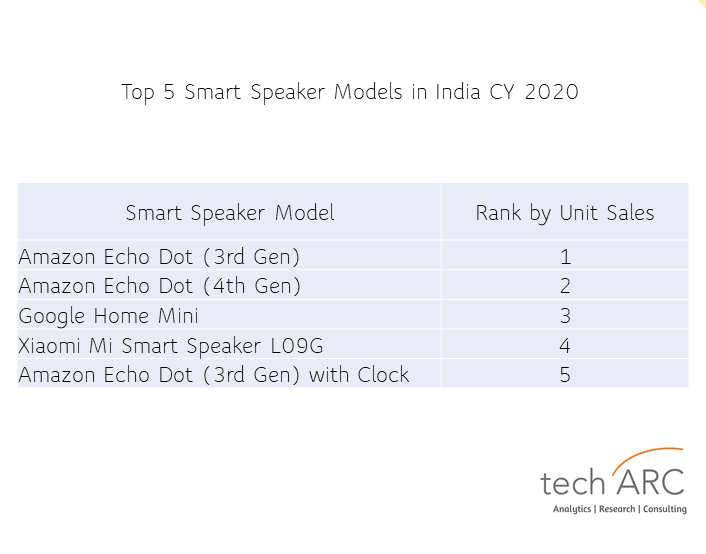 Among the best-selling top 5 smart speakers, Amazon Echo devices featured at No. 1, 2 and 5 ranks.  Google managed position 3rd, while Xiaomi's smart speaker also featured in the top 5 sellers for 2020.
About the report
A standalone element of techARC India Connected Consumer Dashboard Market Scan, this report measures Smart Speaker market size and technology trends through secondary and primary research inputs.
Every month, techARC tracks and analyses market movements, technology trends, pricing trends and product launches at granular SKU / model level to draw inferences and insights measuring and forecasting the product category.
About techARC
Technology – analytics, research and consulting offers insights and market information in the domains of ConsumerTech, EduTech, AutoTech, DeepTech, DigiTech and AssistiveTech. Its services include market scan dashboards, consumer insights, opportunity studies, market size and market share analysis among others.
Based out of Gurugram, techARC is the only technology market research group in India which is a member of ESOMAR and abides by its code of ethics and recommended best practices. techARC is also a member of MMA in India. For more please visit www.techarc.net.
For any queries regarding this study, please write to
Press – media@techarc.net
Industry – research@techarc.net
You may also like to read blogs on fainalysis.
You can share this story by using your social accounts: