Smartphone Digital marketing to take over print media marketing in 2019
Smartphone brands to collectively spend Rs. 330 crores on digital marketing in 2019, up by 20% compared over previous year.
Gurugram – April 2, 2019: techARC today announced its first edition of 'Smartphone Digital Marketing in India' report. The report gives an overview of how the Smartphone brands are spending over digital platforms.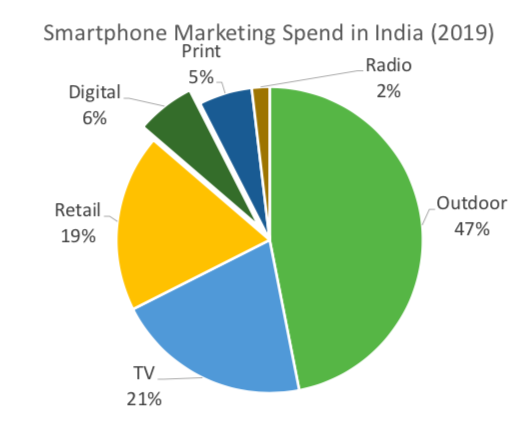 Sharing the main highlights of the report, Faisal Kawoosa, Founder and Chief Analyst, techARC said, "Digital is increasingly becoming the preferred mode in marketing of Smartphones as it helps brands to establish an engaging connect with the millennials, who are either the buyers or influencers for Smartphones."
The report enumerates the advantages as well as challenges of digital marketing for Smartphones.
As per the report findings, Smartphone brands will cumulatively spend over Rs 330 crores on digital marketing in India. 72% of this spending will be consumed by digital marketing over mobile platforms with the remaining being spent on web platform marketing.
The report highlights that 34% of the digital marketing spend would be done to improve search results including keyword bidding and SEO. Social media marketing would consume 26% of the digital marketing budgets for Smartphones in 2019. Similarly, 24%, 10% and 6% would be spent on Performance Marketing, Programmatic Marketing and Influencer Marketing respectively during the period.
Among the key advantages Digital Marketing offers includes call-to-action and rich media messaging to compliment a product like Smartphone, where a brand wants to communicate a lot many details. At the same time, the main challenges remain that of creativity and innovations, besides ad-fraud which results in the inefficiencies of digital marketing, reducing the RoI as well as hurting the brand image.
Download the report
For any queries, please write to research@techarc.net
You can share this story by using your social accounts: