iPhone's exponential growth in India compared to Android smartphones
In 15 years, since iPhone was officially launched in India, the aspirational smartphone has grown 140 times in sales compared to Android smartphones which have shown 48 times growth by unit volume sales.
iPhone has always remained a niche smartphone catering to the premium and ultra-premium consumers who not only buy this trendsetter smartphone for features and performance but also as a symbol of their social and economic status. The cohorts of frequent international business travelers and NRIs have a higher penetration of iPhones. At the same time, the states and union territories of India which has a significant population working outside the country also has a higher proportion of iPhone users. These states and UTs include Punjab, Gujarat, Andhra Pradesh & Telangana and Kerala.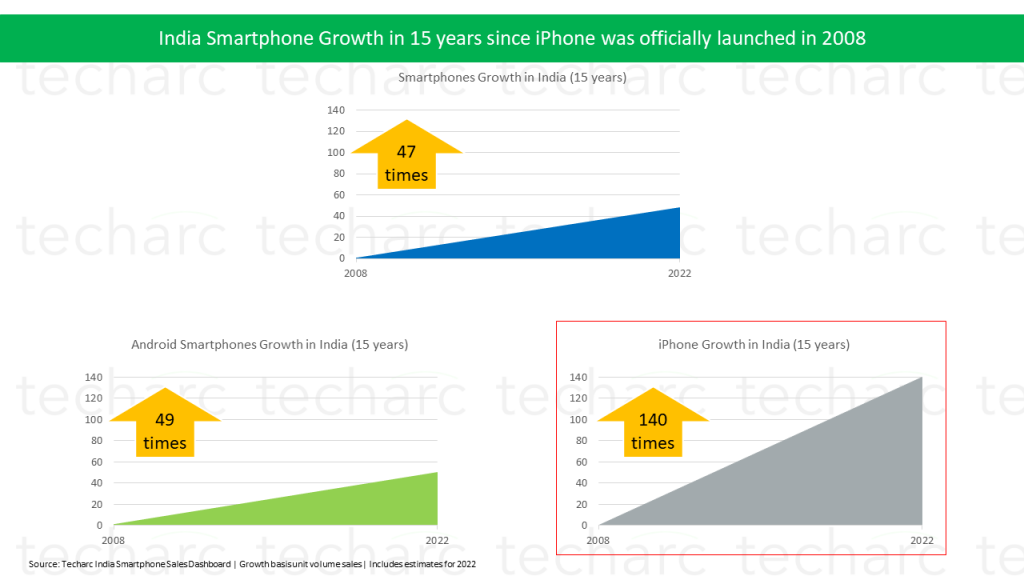 Even though, iPhone is not a mass market smartphone, it has still enjoyed a remarkable love and acceptance in India. Since its official launch in 2008, when just a little over 50,000 iPhones were sold in the country, today iPhone is set to sell a little over 7 million (70 lakh) smartphone units by the end of 2022 as per Techarc estimates. This is a whopping 140 times growth in sales numbers!
Compared to this the overall smartphone market has seen growth of 47 times during the same period with sales expected to close at 162 million (16.2 crore) smartphone units by the end of calendar year 2022. The Android smartphones, which has the widest range of choice, OEMs and price points has seen a growth of 49 times for the same period.
As the smartphone base expansion has plateaued and there are very rare instances, almost negligible, of anyone becoming a first time smartphone user by owning an iPhone directly, the very high aspirational value of iPhone is driving the gradual but steady switch from Android smartphones to iPhones. Currently, only a foldable smartphone form factor is something that can help Android ecosystem to retain its users in the ultra premium (luxe) category, which is a blend of productivity and uniqueness, adding to the personality of the users.
The iPhone growth journey only keeps continuing. Every year with extremely powerful features along with the widening of the potential buyer base in India is helping iPhone grow in the country, where it is still a niche brand when it comes to the overall smartphone market. But the brand is very strong in the segment it operates in and is expected to cross 20 million active iPhone users mark by the end of 2022. Apple has added 10 million users to the user base in India in just last 6 years. This has made iPhone capture over 80% of the luxe segment where Samsung is the only other major brand while others including OnePlus, OPPO, Vivo, Xiaomi and Google are attempting to carve their market pie.
Despite Apple making some decisions that do impact the very price and value conscious Indian buyers, like discontinuing in-box chargers, its growth is not getting affected by any such move and still carries the highest aspirational value among smartphone users. There are users who do switch from iPhone to Android smartphones, but majority does stay with iPhone. Once an iPhone user, always an iPhone user!
You can share this story by using your social accounts: