TechInsight – Performance of a smartphone defines the experience for a user
Specifications, Features and Performance are the top 3 ranking parameters that smartphone buyers evaluate before their 'buy' decision.
In its first TechInsight basis data analytics of over 25,000 comments, reviews, and questions of popular ecommerce marketplaces, Techarc today said that while tangible parameters like specifications are essential in setting the expectations of smartphone buyers, the experience is defined by the performance delivered by smartphones after the users start using these devices.
As per the analysis, the top three parameters setting the expectations of smartphone buyers are Specifications, Features and the Performance about which buyers absorb information from various channels including product brochures, reviews, social conversations, family and friends and others.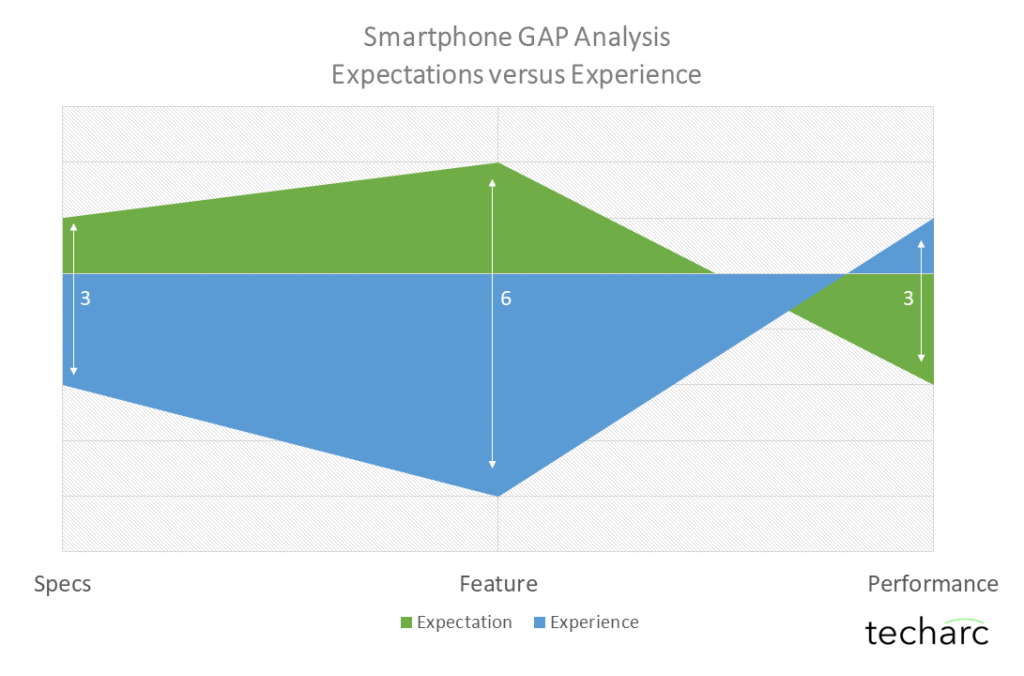 The gap analysis of rankings of the top three parameters defining the expectations with their rankings in terms of experience derived shows that only Performance factors rank higher in experience than expectations. This is a reflection of users being able to judge the Performance only after usage of the smartphones, while at the expectation stage they look for parameters like Specifications and Features which can be tangibly evaluated while making a buying decision.
Releasing the TechInsight, Faisal Kawoosa, Chief Analyst, Techarc said, "As the smartphone OEMs consistently drive R&D to innovate and improvise the devices, consumers see a great value in it by experiencing highly satisfactory performance that is delivered through orchestration of specifications, features and other physical attributes that go in the making of a smartphone."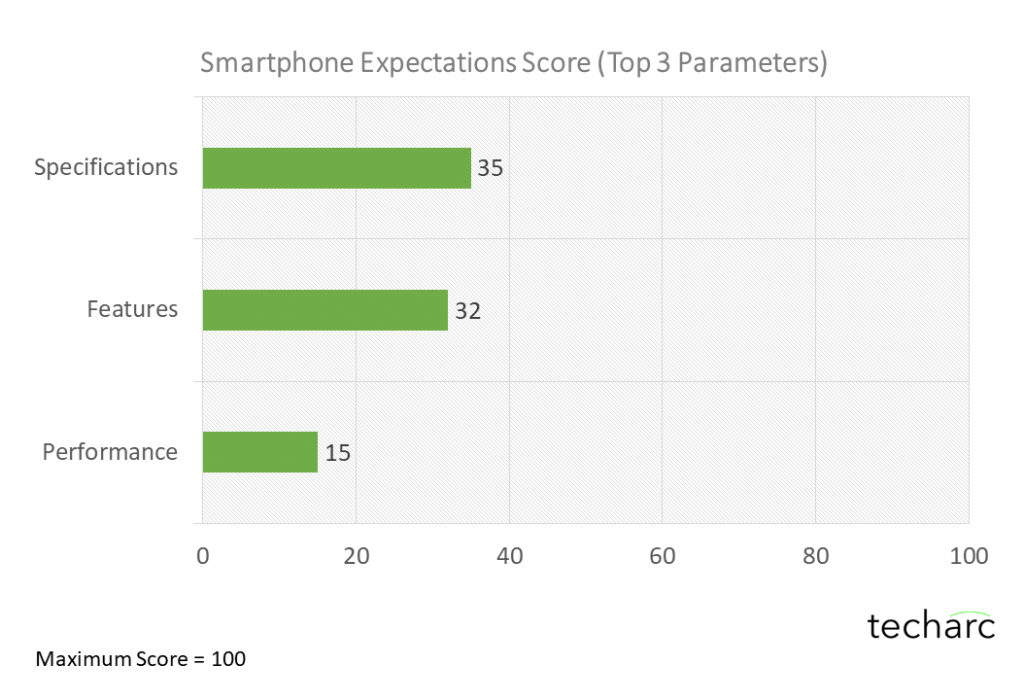 Key Takeaways from the TechInsight
Audio, Display and Battery performances are the top three ranking parameters adding up to the overall performance delivered by smartphones defining the experience delivered by them. With more OEMs going for audio enhancement solutions like Dolby, Harman, DTS and Qualcomm aptX users are able to get the best of the audio experiences on their smartphones on speaker mode as well as through an audio wearable like TWS buds, neckbands and earphones. At the same time, smartphone makers are configuring dual speakers in the phones to deliver immersive audio experience while consuming OTT entertainment content, playing games or during the productive engagements like official conference calls.
In terms of factors setting up the expectations, Camera still leads the inquisitiveness of smartphone buyers where they want to learn more about the camera setup which is the jewel on the camera island of any smartphone. The queries buyers have, include about megapixels it supports and the number of cameras it has.
Among the specifications being evaluated by the smartphone buyers, Audio, Camera and 5G are the top 3 areas that they want to have more information about. While Camera still is the anchor specification for smartphone users, knowing about 5G support of a device they intent to purchase helps them take a future ready decision. With smartphones expected to deliver immersive experience, interest in audio capabilities is steadily increasing along with the video and display performances. The new way of living post covid pandemic outbreak has further made the role of audio significant. In India, even over video calls, most of the participants only engage over audio while keeping their cameras off making the quality of audio experience important than camera quality in a sizeable number of users.
In terms of features being explored while shortlisting the perfect smartphone by a buyer, Camera again leads as an area of interest, followed by support for call recording and extended storage in smartphones. Within camera, the users show high interest in knowing about features like night photography, wide angle support, portrait mode as well as other image enhancements and optimisations that OEMs load their smartphones with leveraging AI and the dedicated computational power aligned with the camera.
Even at the time of exploring a smartphone, a user has some idea about the performance expected out of the device to make a decision to purchase. The users are highly keen to understand the battery performance in terms of the charging time taken and the active duration offered by a smartphone in a single cycle of battery charge. Not surprising, why the smartphone OEMs are actively working on this aspect of smartphones by introducing fast charging technologies as well as higher mAh capacity batteries to address this need of smartphone buyers. The other two areas influencing the expected performance are camera and audio functions of a smartphone.
The accessibility aspects of a smartphone are also becoming increasingly of interest to users purchasing these devices for either themselves or their differently abled dependents. A few buyers are keen to learn about live captions for incoming calls, support for Bluetooth LE (BLE), and other features that make smartphones differently abled friendly. This is an opportunity area for OEMs to further explore for social good.
In defining the overall experience of smartphone users, the users value devices offering ubiquitous experience across the key features of a smartphone. No longer are smartphone users impressed with a single or a few specifications or features. They consider smartphones delivering an 'all-rounder' result as the ones being able to match their expectations rather than those having a few strengths.
With the introduction of diluted or 'cusp' market segments like 'mid-premium' categories the value derived in terms of the powerful and capable device ownership against the price paid to own them, smartphone users are mostly happy about the pricing of the devices. Among the factors, pricing along with offers and discounts being introduced from time to time to sweeten the deal, smartphone users rank it as the 2nd factor defining the overall experience.
Audio enhancements and improvisations have not gone unnoticed before smartphone users. Be it on the hardware specifications front or the software enhancements being deployed to level up the audio properties offering highly immersive experiences, the smartphone users consider it at the 3rd rank among factors defining experience.
The user awareness and education about smartphones is increasing with every day passing. This is definitely creating challenging posture for the entire smartphone ecosystem to present granular, fact based, and data driven information to the users. The smartphone users rank processor as the No. 1 specification defining the experience of a smartphone. This is a paradigm shift in the understanding about smartphones compared to 3-5 years back when processors weren't even in any zone of consideration of potential smartphone buyers as well as the existing users of a smartphone.
About TechInsight
The TechInsight is prepared by Techarc in association with its ResTech partner, mFilterIt using machine learning algorithms to draw insights from very large data sets cover over 100 smartphone models and variants of 10 major smartphone brands comprising of over 95% of the market share by volumes. 
The data was captured during the quarter of January-March 2022, resulting in over 25,000 comments, reviews and questions of people planning to buy a smartphone or already using a smartphone. Views of smartphone users having used the devices for at least 1 month were accounted for the analysis.
For more about Techarc please visit www.techarc.net
For any query on the TechInsight, please write to research@techarc.net.  Media can send its queries to media@techarc.net.
---
About mFilterIt
Powered by industry-acclaimed Machine Learning, Data Analytics and Artificial Intelligence capabilities, mFilterIt offers global solutions for creating trustworthy brands digitally. Its solutions are used by leading advertisers globally to detect industry pertinent challenges including ad-fraud and brand safety resulting in over $400 million savings for the industry. For more on mFilterIt, please visit www.mfilterit.com.
About Techarc
Techarc offers analytics, research, and consulting services in the technology domain with specific focus on ConsumerTech, DigiTech, DeepTech, AutoTech, EduTech and AssistiveTech areas. The unique insights and trends offered by Techarc leverage some of the latest ResTech (Research Technology) solutions offered by its partners who have industry acclaimed solutions developed on AI, ML and other intelligent technologies. For more on Techarc, please visit www.techarc.net.
For any query on this TechInsight please write to Research@techarc.net.
You can share this story by using your social accounts: