Audio Experience pivotal to the satisfaction of Smart TV users
Display quality is now playing a minimal role in the Smart TV experience; two-third of consumers decide around the specifications of the TV while exploring their purchase.
An analysis of over 40,000 questions and reviews put across by users of Smart TVs on key ecommerce platforms reveals that the quality of audio delivered by the Smart TVs is pivotal in defining the overall experience.
Contrary to the quality of the display, which was few years back an anchor differentiation for Smart TVs, users are now finding the audio experience as the key differentiator. The users now understand the significance of audio in delivering the overall immersive experience while consuming their favourite content over Smart TVs.
93% of the users who attribute audio experience as the key differentiation do not attach any specific function of feature resulting in the same. 5% users attribute it to the speaker quality while remaining 2% specifically call out the reason as Dolby Atmos enhancement to their Smart TVs.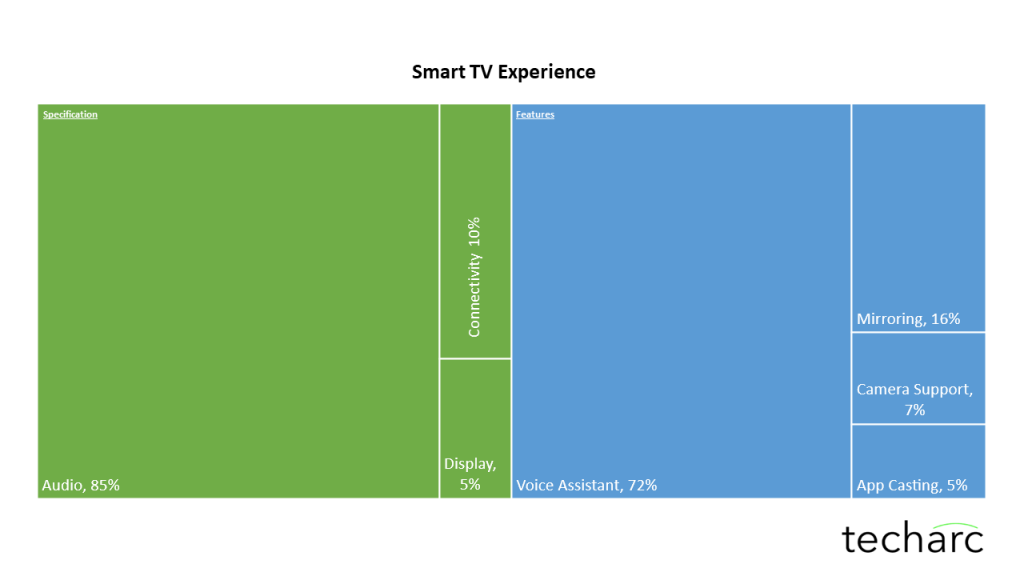 Other than audio, connectivity also plays a critical role in defining the experience. Smart TV users are looking for various connectivity options like Bluetooth, Dual Band Wi-Fi, etc., which gives them the freedom of connecting their Smart TV with various networks and accessories to bolster the experience.
Among features, voice assistant dominates the overall experience derived from Smart TVs. Support for Camera is an emerging feature where users want to use their Smart TVs for video and conference calls as well.
OEMs of Smart TVs need to educate users around the significance of audio in the overall experience delivered by the device.  At the time of evaluating various options, the potential buyers are more concerned about the connectivity types and networks to make their decision to buy.  Audio capabilities stands 2nd, however, in terms of experience it anchors the specifications that a Smart TV comprises of.
About TechInsight
The TechInsight is prepared by Techarc in association with its ResTech partner, mFilterIt using machine learning algorithms to draw insights from very large data sets cover Smart TV models of leading OEMs. 
The data was captured during the quarter of January-March 2022, resulting in over 42,000 comments, reviews and questions of people planning to buy a Smart TV or already using one. Views of Smart TV users having used the devices for at least 1 month were accounted for the analysis.
For more about Techarc please visit www.techarc.net
For any query on the TechInsight, please write to research@techarc.net. Media can send its queries to media@techarc.net.
---
About mFilterIt
Powered by industry-acclaimed Machine Learning, Data Analytics and Artificial Intelligence capabilities, mFilterIt offers global solutions for creating trustworthy brands digitally. Its solutions are used by leading advertisers globally to detect industry pertinent challenges including ad-fraud and brand safety resulting in over $400 million savings for the industry. For more on mFilterIt, please visit www.mfilterit.com.
About Techarc
Techarc offers analytics, research, and consulting services in the technology domain with specific focus on ConsumerTech, DigiTech, DeepTech, AutoTech, EduTech and AssistiveTech areas. The unique insights and trends offered by Techarc leverage some of the latest ResTech (Research Technology) solutions offered by its partners who have industry acclaimed solutions developed on AI, ML and other intelligent technologies. For more on Techarc, please visit www.techarc.net.
For any query on this TechInsight please write to Research@techarc.net.
You can share this story by using your social accounts: