Negative Sentiment around Ratings and Reviews result in highest drop rate of potential online smartphone buyers
Among the top 5 milestones that a potential buyer checks through, 34% abort their smartphone buying if the ratings and reviews do not instill faith in them while evaluating a smartphone.
Techarc today announced 'Smartphone online buying analysis' basis analysis of 5,000 online smartphone buyers across different price segments and locations. In this Tech Insight, Techarc identified 5 key touch points or milestones that a potential buyer goes through before hitting a 'buy' button on the popular marketplaces like Amazon and Flipkart.
The 5 key milestones or touchpoints of a potential online smartphone buyer in that order are: -
Listing: The stage where a buyer looks for the device(s) in the catalogue populated after search results.
Information Page: The unique page of the SKU where all details of the device are given including features, specifications, images, etc.
Pricing: The section where pricing, discount and offers like cashback, etc., details are given on the information page.
Shipping: Details about availability and delivery of the SKU to the location of the buyer.
Ratings and Reviews:  This is very critical section and last touchpoint for any buyer to leverage from the experience of existing users to form an opinion.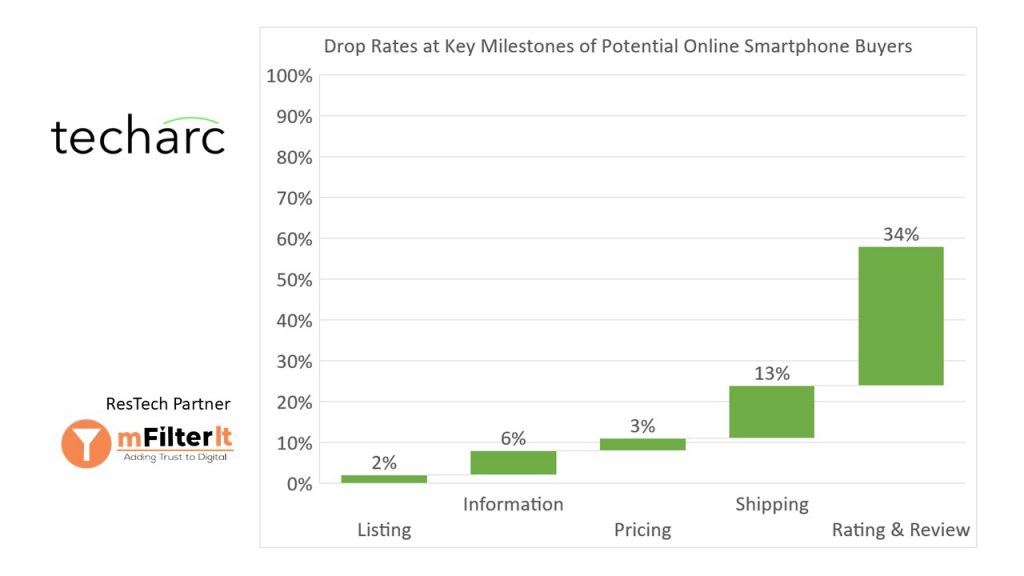 5 key milestones of a potential online smartphone buyers
Listing: The potential buyers do search for their 'dream device' by typing in keywords – generic as well as brand – to narrow their zone of consideration and find the device they are interested in. If the device doesn't figure on 'prime pages' (Over 80% of the visitors don't go beyond first 3 pages of search results), then there is potential chance of them pausing the purchase intent which can deflect them to other channels – offline or online. However, specifically in case of smartphones since buyers mostly visit with unambiguous intent, they search for their wish list device(s) by other means including using the menu options and other filters available on the marketplaces. As a result, only 2% of the potential buyers drop out at this stage.
Information: The unique page of the smartphone model that the buyer is interested in has all the information including specifications and other details that a user looks for before buying. However, users do not find the information always easily available, especially the first-time buyers or visitors who visit marketplaces after a considerable gap, say around 6-9 months. As a result, even if the information is available somewhere on the page, they do not find it and either go for other off-platform sources to inquire more or raise a question to the seller again impacting the momentum of purchase. In the study we found 6% of the buyers dropping at this stage.
Pricing: At the stage, other than discounts and promotions, users are highly interested in learning cashbacks, rewards, payment options, etc. The online marketplaces not only prominently make such information available but have also made almost all the possible modes of payment and finance at the disposal of a potential buyer. This has considerably lowered the drop rate which is just 3% at this milestone.
Shipping: The fourth area of interest that a buyer looks information around is shipping details which include availability of the device at their location (pin code) and the expected time of delivery in days. Again, the marketplaces have done significant improvements here over the years. However, at times due to non-availability of specific SKUs differentiated by colour and RAM-ROM configurations, 13% of potential buyers drop at this stage.
Rating and Review: The last but most important milestone before a buyer hits add-to-cart / buy button is looking at the ratings and reviews the device has got. Even if all the previous stages do not impact much in terms of dropouts, this stage results in more than 1.5 times dropouts than all the previous milestones put together. If the overall sentiment built through ratings and reviews is negative, 34% of the potential buyers drop at this stage and abort their purchase intent.
Way forward
The digicommerce buying is a self-servicing process where repeated as well as first time buyers come in to buy their products including smartphones. OEMs selling online need to make it sure that the information available to the potential buyers addresses the needs of first-time explorers as well as experienced repeaters. Hence, while it's a great marketing point to leverage to highlight hero features and specifications, some time basic functions also merit prominent positioning.
The brands need to optimise their search results and ensure they do figure up on both generic and brand specific keywords. The specific SKUs should figure up within first three pages, or the prime pages of digicommerce. Here the platforms may also need to rekindle their cataloguing so that variants such as colours and RAM/ROM configurations are distinctly shown in the results rather than a buyer having to look for the options after opening the model level page.
OEMs will have to closely monitor availability and out-of-stock status for the models by variants for the pin codes served. Keeping a track will ensure that stocks never run dry resulting in drop of a potential buyer.
The power of ratings and reviews is at times underestimated.  The OEMs will have to develop easy ways, for instance voice driven, to let genuine buyers share their opinion about the products.  Also, in some cases its not easy for an average user to have a view about the experience just at the time of purchase. OEMs should also engage the buyers after 3 to 6 months to solicit their ratings and reviews which can give a more learned and realistic view about the experience and issues, if any, faced by the actual users. 
---
About mFilterIt
Powered by industry-acclaimed Machine Learning, Data Analytics and Artificial Intelligence capabilities, mFilterIt offers global solutions for creating trustworthy brands digitally. Its solutions are used by leading advertisers globally to detect industry pertinent challenges including ad-fraud and brand safety resulting in over $400 million savings for the industry. For more on mFilterIt, please visit www.mfilterit.com.
About Techarc
Techarc offers analytics, research, and consulting services in the technology domain with specific focus on ConsumerTech, DigiTech, DeepTech, AutoTech, EduTech and AssistiveTech areas. The unique insights and trends offered by Techarc leverage some of the latest ResTech (Research Technology) solutions offered by its partners who have industry acclaimed solutions developed on AI, ML and other intelligent technologies. For more on Techarc, please visit www.techarc.net.
For any query on this TechInsight please write to Research@techarc.net.
You can share this story by using your social accounts: