Multiple messaging apps is a reality in India now, among alternatives to WhatsApp, Telegram is the frontrunner having added 42.9% of the users in the past 1-3 years
Users are operating more than one platform for features and security
Gurugram – Wednesday, February 10, 2021: In a user insights research announced by techARC today, spanning 2,000 active messaging users across the country, it was revealed that the trend of using multiple apps for chatting and sharing is picking up in India driven by unique feature set offered by emerging platforms like Telegram as well as security levels in Telegram and Signal.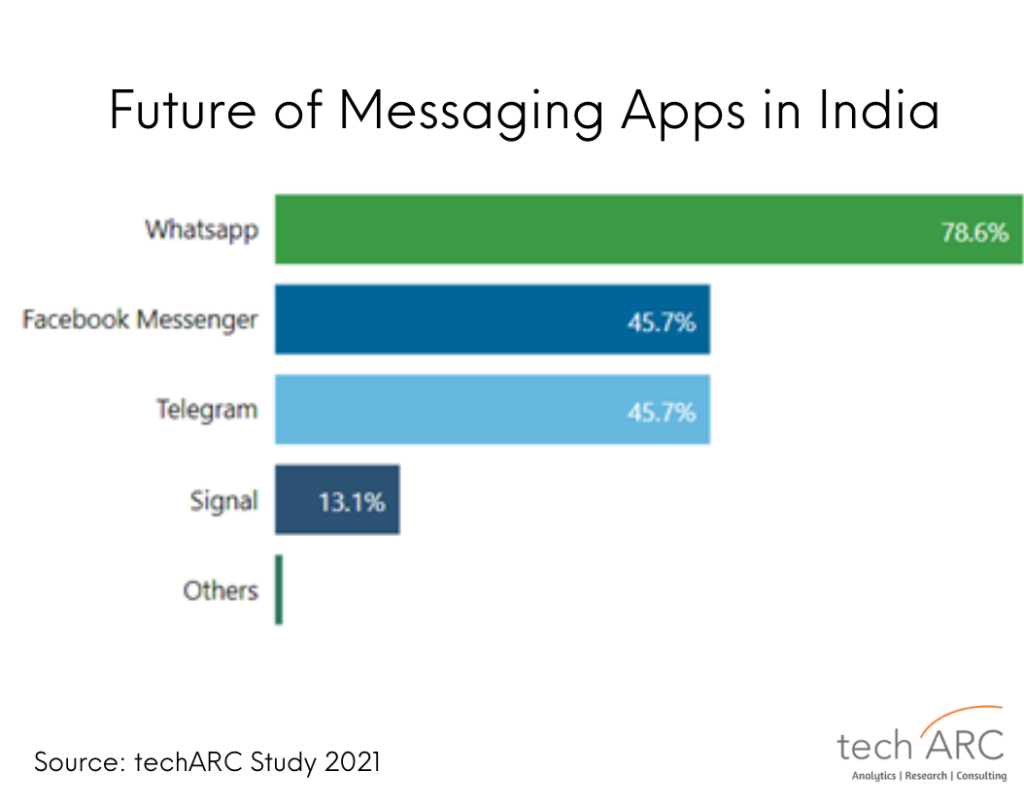 Commenting on the findings, Faisal Kawoosa, Founder & Chief Analyst, techARC said, "Though there is a clear first mover advantage for WhatsApp, users are increasingly signing up other platforms like Telegram and Signal for their unique features and better security they offer. With this future of messaging apps in India is going to be pluralistic in nature."
Some of the key insights from the report are: -
Among major messaging apps, WhatsApp has more than 53% of its users for over 3 years. In the past 3 years, Telegram gained most of its users, while in the past 1 years, Signal gained more than 47% of its users
Users are actively engaging across platforms daily indicating there is no clear-cut primary messaging app. Most of the users across apps use it several times in a day (at least 10 times).
App users in India install the messaging apps through OS based stores. The pre-installed apps on smartphones is the 2nd most popular source for users to discover messaging apps.
Users have figured out a definite reason to be on different messaging apps. More than 85% of the respondents had a specific purpose for showing the behaviour of using multiple apps.
Over 32% of the respondents send critical / secret messages over Telegram. More than 45% of the users are apprehensive about WhatsApp privacy basis media reports. However, not all of them are unsure about the security as 81% of the users are still confident regarding the privacy and security offered by WhatsApp.
Even if WhatsApp loses its competitive advantage of most of the contacts for anybody using the app, over 70% of the respondents said they will continue to use both – WhatsApp and Telegram.
At least 1 in every 5 respondents prefer Telegram over WhatsApp for varied reasons including finding it secure and respecting the privacy, features like channels, allowance of users in a single group and sharing of large size files.
Over 96% of the respondents switched to Telegram because of its ability to accommodate more users in a single group. The second reason for moving to Telegram was the ability to share large files while the third reason was receiving daily updates.
Telegram has also become an integral part of Digital India initiative. Nearly 44% of the respondents were part of some government channel or group on Telegram. In terms of engagement, it stands at a tie with WhatsApp with users using them equally at 34.4%.
The diversity of India is also being well supported by Telegram's spread. 49% of the Telegram users are part of a regional group sharing content in native language.
Because of features like several users in same group and sharing of large files, Telegram is also gaining popularity as a medium of education. 78% of the users find educational content on Telegram.
The report further throws up interesting insights which can be analysed through various demographic cuts including age, education, gender, city, etc. The entire report can be accessed through this interactive dashboard.
---
About the Study: The purpose of this study was to assess the state of messaging apps in India to understand the future trends based on user perception and behaviour.
Based on a sample of 2,000 users, this study was to investigate about spread of users across different platforms, preferences of users, features liked and missed by users, concerns about security and privacy, as well as to find any clear winner dominating this use case of apps.
At the time of conceptualising the study, Telegram was an emerging alternative to WhatsApp (most used app for chatting and messaging). Hence, a comparison was drawn between WhatsApp and Telegram. However, usage and adoption of Signal was also captured in this study.
---
About techARC: Technology – analytics, research and consulting offers insights and market information in the domains of ConsumerTech, EduTech, AutoTech, DeepTech, DigiTech and AssistiveTech. Its services include market scan dashboards, consumer insights, opportunity studies, market size and market share analysis among others.
Based out of Gurugram, techARC is the only technology market research group in India which is a member of ESOMAR and abides by its code of ethics and recommended best practices. techARC is also a member of MMA in India. For more please visit www.techarc.net.
For any queries regarding this study, please write to
Press – media@techarc.net
Industry – research@techarc.net
You can share this story by using your social accounts: