With OnePlus a smartphone user can stay easily for a decade.
The Nord series has emerged as a successful stepping stone for the smartphone users to enter into the OnePlus family and stay with the brand for at least a decade while continuing their need for more driving upgrades.
Credit goes to OnePlus for being able to generate interest among the smartphone ecosystem right since its inception. Even being a micro-niche player in its early days, the brand was always high on attention of everyone including media, analysts and bloggers who typically keep a close watch of the industry they follow.
Starting from its 'home segment' today OnePlus has spanned to lower as well as higher segments with definite series of smartphones offering an experience for which the brand distinctly stands many others in the respective competition zones. A smartphone user can start the journey from Nord series at a time when the user no longer continues to remain satisfied with possession/ownership of a smartphone. The need which the segment (Rs 20-30,000) caters is to look for better performance and experience. Nord has successfully been able to answer this need of smartphone users by giving them a preview of the OnePlus ecosystem in the range.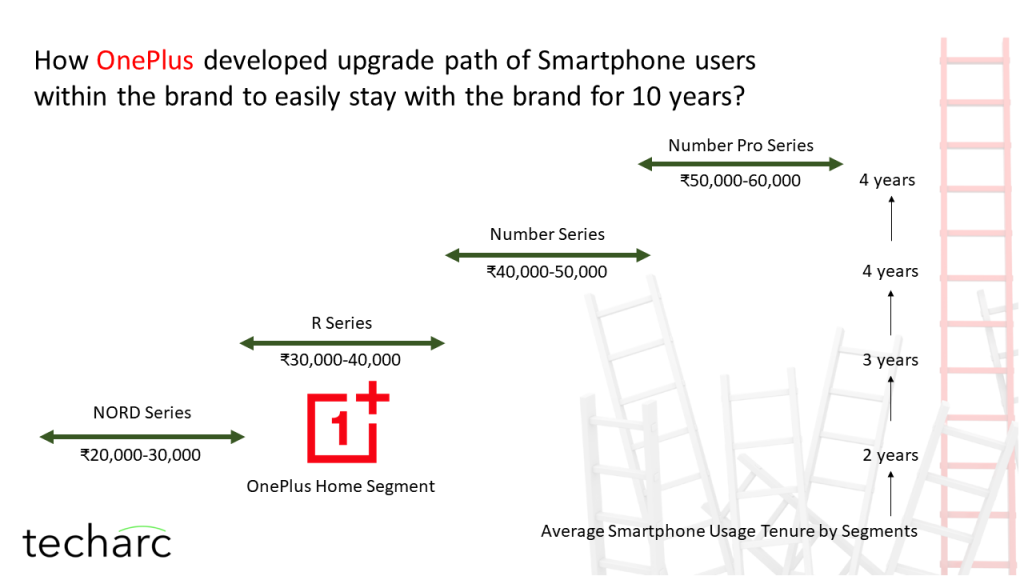 Having one of the lowest switch out rate (switching to another brand) as well as highest switch in rate (switching within the brand), OnePlus is able to capatalise this growing mass base of Nord users who then can be fed higher series upgrades for higher levels of experience and performance along with premium look and feel of the device. With the recent Nord CE 2 5G launch, the series is now offering even better features powered by specifications like 90Hz refresh rate, HRD10+ certified display, 4,500 mAh dual cell battery, 65 watt SUPERVOOC charger among others. These all specifications allow the device to offer a 'premium like' experience in the segment.
Similarly, R Series, OnePlus Number Series and the OnePlus Number Pro Series makes meaningful and purposeful additions to further elate the experience as a user upgrades to the next segments. This has helped OnePlus establish in the smartphone ecosystem as a brand that can offer one of the best longevity of stickiness with the brand for users who join the brand family. Barring OnePlus, only Samsung has achieved it over the years, though it does face challenge in between the base M series and the ultra high end S series. Apple did attempt the same with SE, but hasn't succeeded much.
A typical smartphone user journey will not travel through the OnePlus ladder and will skip one of the series while upgrading. For instance, a Nord user might move up to R series and then to Pro series. Or someone might go for R series and then the Number series. Whatever the path a OnePlus user might take, today the brand has successfully developed and deployed a clear blueprint for its users to enjoy getting better services and experience at least over a span of 10 years. That's an incredible achievement for a brand which hasn't even yet completed its decade in the industry. This strategy also complements with the brand's philosophy of 'never settle'. It has to offer avenues to users of never settling and through this ladder, OnePlus has successfully achieved it.
However, the only challenge I see in this strategy is keeping a strong visible differentiation which can only be achieved through a distinct design philosophy for each series. The brand must work on a distinct design philosophy for each series to increase the delta of JND or just noticeable difference.
You can share this story by using your social accounts: