Smartphone users find gaps in the experience of Battery, Memory & Storage and Audio experience.
Camera stands out others where experience is exceeding expectations indicating early signs of saturation.
Dolby, among the leading technology providers for smartphone OEMs besides Qualcomm and MediaTek in terms of recall and awareness.
As per the April 2022 GAP Analysis of top 5 parameters defining smartphone expectations among buyers, there is an increasing ask from the potential users about Battery, Memory & Storage and Audio experience before they make their decision to purchase. On the other side, there is still scope to improve the experience on these parameters.  Camera is the only distinct parameter where the experience exceeds expectations.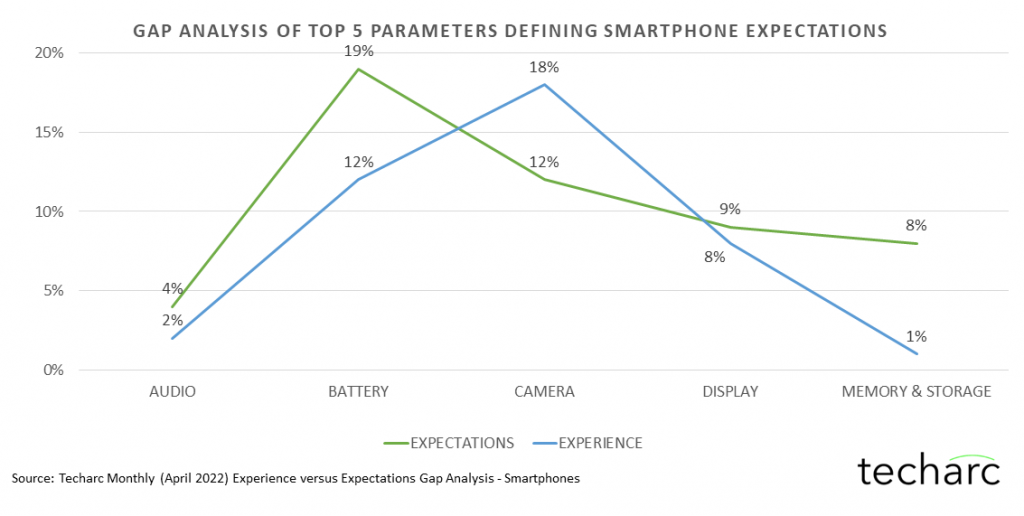 The key five attributes have a defining impact on the positive ratings smartphones get on the popular ecommerce platforms like Amazon and Flipkart.  Camera leads in terms of getting high order positive rating of 5 and 4, with 45.9% and 42.6% 5-star ratings being attributed to the performance and camera quality.  This is followed by Battery, Display, Audio and Storage in that order. For the smartphone OEMs, its equally important to improve performance and experience of these parameters to fetch more positive ratings that have a direct bearing on the 'saleability' of the smartphones.
Among the top 5 parameters, Audio stands out distinct in terms of users looking for the technology behind its enhancement.  This makes the awareness of the technology providers in the audio space high across these 5 parameters.  Within audio enhancement technology providers, Dolby leads the recall as well as in impact on the positive ratings that the users rank their smartphones with. Close to 70% of the 5- and 4-star ratings within audio, are attributed to the presence of Dolby technology in these smartphones by the users.  This makes Dolby, not only a high awareness and recall technology provider within audio, but across the component and technology makers for smartphones.  Other than Dolby, Qualcomm and MediaTek are the other two technology makers in the smartphone ecosystem which have high awareness among users.
For the remaining smartphone attributes within the top 5, though Smartphone OEMs do talk and promote about the makers of image sensors, lens, display, etc., it is yet to get registered in the minds of users who are looking for a smartphone.
---
About TechInsight
The TechInsight is prepared by Techarc in association with its ResTech partner, mFilterIt using machine learning algorithms to draw insights from very large data sets covering Smartphone models of leading OEMs.
The data was captured during the month of April 2022, resulting in over 50,000 comments, reviews and questions of people planning to buy a Smartphone or already using one.
For more about Techarc please visit www.techarc.net
For any query on the TechInsight, please write to research@techarc.net. Media can send its queries to media@techarc.net.
About mFilterIt
Powered by industry-acclaimed Machine Learning, Data Analytics and Artificial Intelligence capabilities, mFilterIt offers global solutions for creating trustworthy brands digitally. Its solutions are used by leading advertisers globally to detect industry pertinent challenges including ad-fraud and brand safety resulting in over $400 million savings for the industry. For more on mFilterIt, please visit www.mfilterit.com.
About Techarc
Techarc offers analytics, research, and consulting services in the technology domain with specific focus on ConsumerTech, DigiTech, DeepTech, AutoTech, EduTech and AssistiveTech areas. The unique insights and trends offered by Techarc leverage some of the latest ResTech (Research Technology) solutions offered by its partners who have industry acclaimed solutions developed on AI, ML and other intelligent technologies. For more on Techarc, please visit www.techarc.net.
For any query on this TechInsight please write to Research@techarc.net.
You can share this story by using your social accounts: