Dissatisfaction with display, camera, and battery back-up among top 6 reasons triggering faster replacements among smartphone users in India.
Smartphone users are increasingly becoming content consumers leading to increased dissatisfaction of specifications helping consume content.  Audio likely to be added soon to the reasons.
In a recently concluded study in June 2022, covering 1,000 smartphone users across India owning smartphones in under ₹30,000 price segment, the growing dissatisfaction of performance of specifications primarily used during content consumption features among the top 6 reasons triggering replacement of smartphones within 6 months.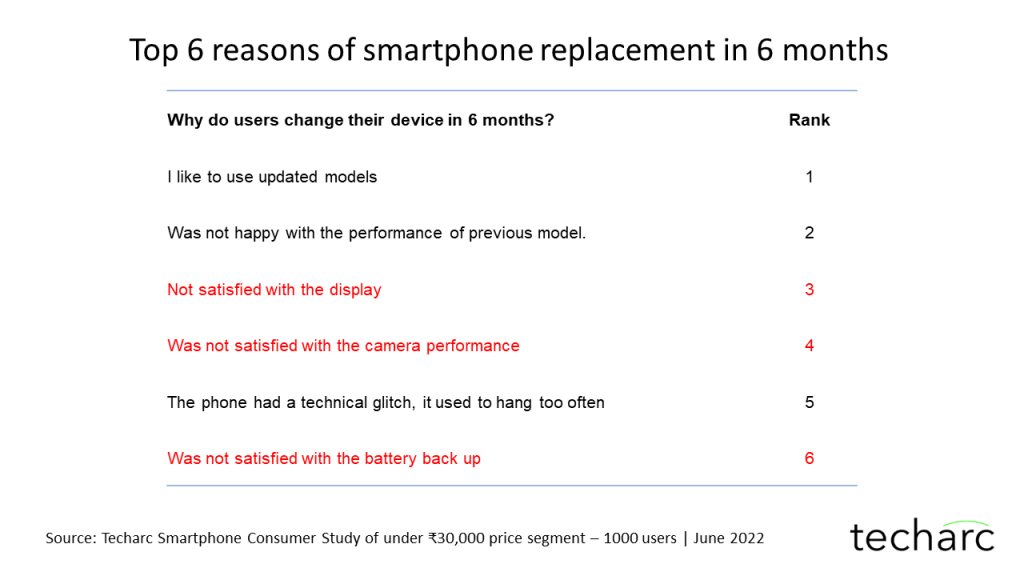 32% or 1 in every 3 smartphone users falling in this price segment changes the smartphone in less than 6 months. The key reasons for this change range from an inherent desire to stay updated with the latest in the market to dissatisfaction with specific attributes of a smartphone.
Key specifications like camera and battery see a lot of frequent enhancements from OEMs with every launch triggering a desire to replace the existing smartphone.
At the same, the orientation of users is changing more towards content consumption after the onset of OTT, UGC, live streaming, gaming, and other formats of content. This is resulting higher dissatisfaction in key specifications used in content consumption like display and battery backup.
The smartphone OEMs need to identify this change in how the devices are being used and focus more on specifications which are used while consuming the content. The key elements of a smartphone that need to be focused, in the backdrop of this change in smartphone usage include display, battery, RAM, storage and processor. Going forward the users will increasingly ask for better audio experience as well. Without that the immersive experience equation does not complete. While the bright light and ultra-rich colour displays show up the immersive videos and gaming scenes, the immersive experience remains sublime without an equally resounding audio.
The bottom line is OEMs need to arrest this trend of users replacing smartphones – 1 in every 3 – in less than 6 months as it will be extremely difficult for them to innovate and enhance at this pace with not much left to offer in a smartphone.  The users should see upgrade and replacement as a positive journey of owning better than the present rather than purchasing a new one out of dissatisfaction from the present, especially dissatisfaction with the key elements or specifications of a smartphone as they only offer marginal scope to improve in present time.
To read more insights from the study click here.
You can share this story by using your social accounts: