With audio and display emerging as the differentiators, Smart TV users make a call for immersive experiences.
In the recently analyzed data by Techarc, Audio and Display have emerged as the prominent attribute of a Smart TV experience over the other features. In the May GAP analysis of expectations versus experience for Smart TVs, 53% of users attribute Display experience as the key differentiator and 32% say that the Audio plays a critical role in defining the experience.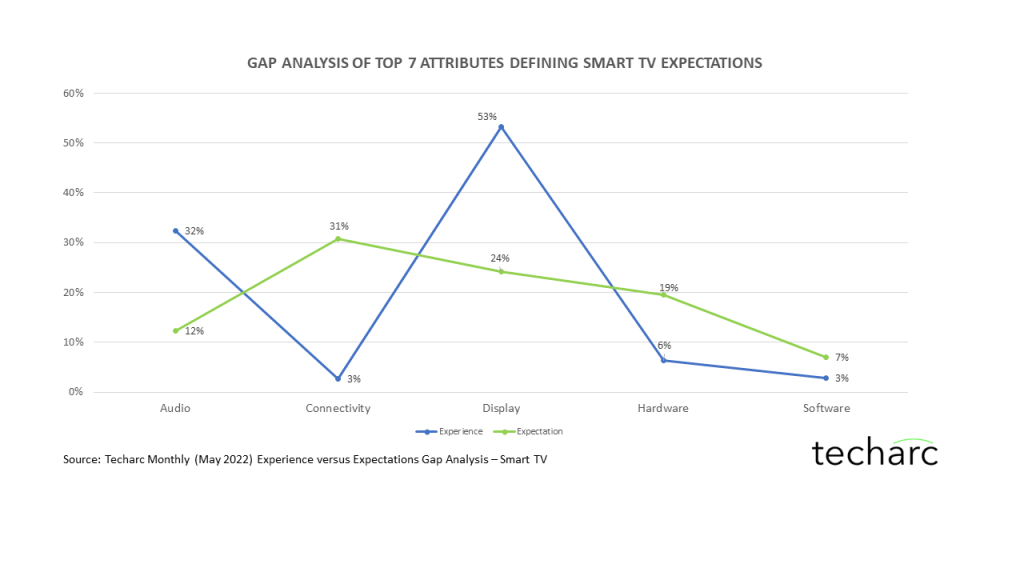 Apart from Display, users now understand the significance of audio in delivering the overall immersive experience while consuming their favourite content over Smart TVs. While analyzing the data it was found that Dolby Audio and video technology has been used by most of the OEMs predominantly to provide a delighted user experience.
As display is already reaching a maturity level with OLED screens, etc., being introduced in Smart TVs across different price points, audio gives OEMs a leeway to bring in innovation and create distinct and sustainable differentiation.
As observed, in the top-rated Smart TV brands, Dolby Audio was primarily used. Indeed, Dolby is playing a crucial role in providing a pleasant audio experience to the customers which automatically increases consumer satisfaction rate. Higher-end Smart TVs usually have good audio technologies Dolby Audio and DTS:X to provide richer experience.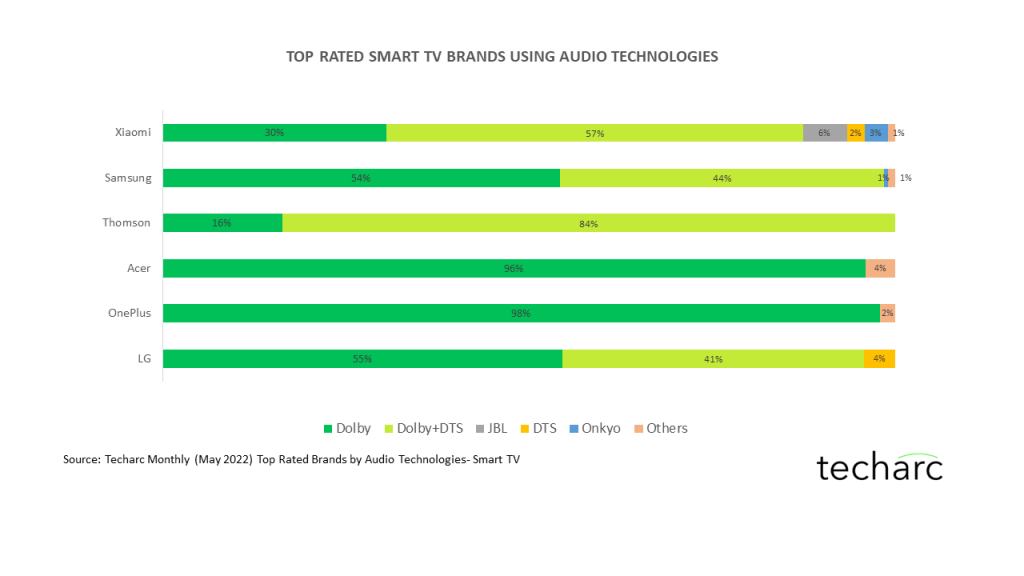 Among the popular e-commerce Smart TV brands in India, Xiaomi was the top-rated TV manufacturer with 19.2% consumer satisfaction experience because of its overall 87% portfolio using audio technologies from Dolby and its subsequent partners. It used Dolby Audio tech in 30% of its premium Smart TVs and 57% of combined Dolby and DTS:X to provide a richer experience to its consumers.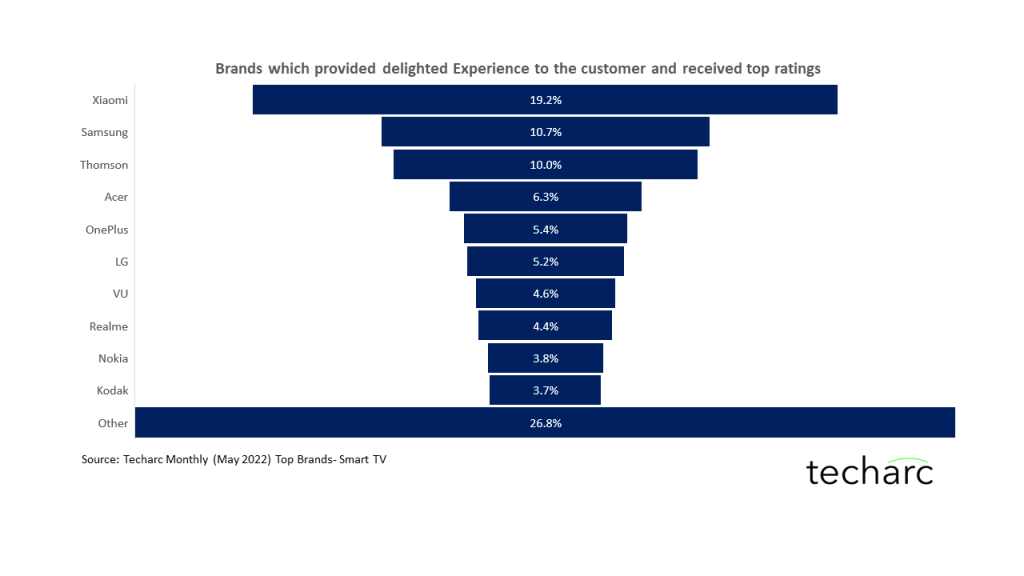 The data was captured during the month of May 2022, resulting in over 30,000 comments, reviews and questions put across by Smart TV users on e-commerce platforms disclosing that the smart television's performance determines the overall experience of a user. In the analyzed data, Specifications experience contributes 38%. Surprisingly, features are the lowest at just 1%.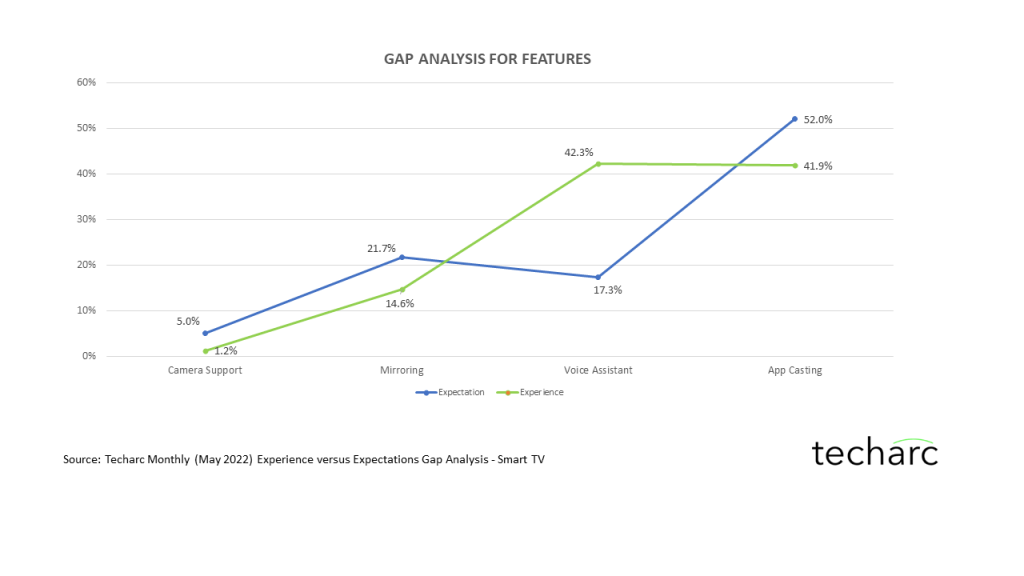 Features include the smart features and services a smart TV possesses, such as Camera, App casting, Voice assistant, and Mirroring. One interesting insight from the data was that the video call capability is an emerging feature in a Smart TV for the users, after all the companies chose the work-from-home models.
It is suggested to the OEM's that smart features add value to a Smart TV, hence they need to focus more on adding great features and update the existing ones which will definitely help in delivering a good user experience.
---
About TechInsight
The TechInsight is prepared by Techarc in association with its ResTech partner, mFilterIt using machine learning algorithms to draw insights from very large data sets covering Smart TV models of leading OEMs.
The data was captured during the month of May 2022, resulting in over 30,000 comments, reviews and questions of people planning to buy a Smart TV or already using one.
The Brand analysis was done basis the reviews having received rating of 4 or 5 only on the respective e-commerce platforms like Amazon and Flipkart, shortlisted by top 10 brands only.
For more about Techarc please visit www.techarc.net For any query on the TechInsight, please write to research@techarc.net. Media can send its queries to media@techarc.net.
About mFilterIt
Powered by industry-acclaimed Machine Learning, Data Analytics and Artificial Intelligence capabilities, mFilterIt offers global solutions for creating trustworthy brands digitally. Its solutions are used by leading advertisers globally to detect industry pertinent challenges including ad-fraud and brand safety resulting in over $400 million savings for the industry. For more on mFilterIt, please visit www.mfilterit.com.
About Techarc
Techarc offers analytics, research, and consulting services in the technology domain with specific focus on ConsumerTech, DigiTech, DeepTech, AutoTech, EduTech and AssistiveTech areas. The unique insights and trends offered by Techarc leverage some of the latest ResTech (Research Technology) solutions offered by its partners who have industry acclaimed solutions developed on AI, ML and other intelligent technologies. For more on Techarc, please visit www.techarc.net.
For any query on this TechInsight please write to Research@techarc.net.
You can share this story by using your social accounts: